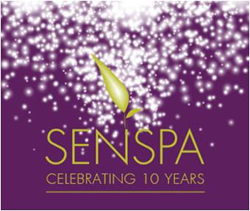 Each individual who works at SenSpa and Careys Manor brings their own special quality which forms our unique character.
New Forest, Hampshire (PRWEB UK) 23 May 2014
The multi award winning SenSpa, located within the beautiful New Forest National Park will be celebrating a milestone this year. The spa turns 10 years old this August.
To celebrate 10 years of spa excellence, SenSpa is planning a whole host of exciting things to honour the occasion and say thank you to its loyal customers.
Amazing giveaways, Birthday spa special offers, Facebook fan competitions and even a specially blended herbal tea are just some of the things planned.
Set within the grounds of Careys Manor Hotel in Brockenhurst, The £6 million, Thai spa, opened its doors in August 2004. It combines the ancient traditions of the east with modern, state-of-the art spa facilities from the west.
SenSpa got its name from the staff at Careys Manor Hotel who were asked to submit their suggestions to the hotel management prior to its opening.
Wedding Coordinator, Francoise Gysemans discovered that 'sen' is used to describe the body's energy lines in Thai traditional medicine.
The term also means 'forest' in Chinese and with the spa's location in the heart of the New Forest - there couldn't be a name more suited. So, a unanimous decision was made and SenSpa was born.
Inspired by holistic wellness and inner beauty, SenSpa is committed to providing a spa experience focusing on the balance of mind, body and spirit.
Influences of the East are reflected in the Thai silks, traditional wood carvings and gold murals that pervade the spa's décor providing a tranquil and luxurious space for spa guests.
At the heart of SenSpa is its Thai ethos. Thai service excellence is recognised worldwide and Spa Director, Lina Lotto wanted to work to that standard when creating SenSpa in 2004:
"My experience of working and living in Thailand showed me that service is more than being professional, efficient and adopting best practice. It is about making people feel special and cared for. Service delivered with warmth, care and grace is what characterises Thai hospitality and anyone who visits SenSpa will immediately feel that quality".
SenSpa offers over 40 spa and beauty treatments including signature massages, body scrubs and organic facials alongside an extensive hydrotherapy facility.
Careys Manor Hotel also offers a range of spa break packages with overnight accommodation and discounted treatments.
The Spa has been no stranger to industry accolades, winning 'Best Spa in the South-East 2012 & 2013' (The Good Spa Guide), also achieving 'Best UK Hotel Spa 2013', 'Best UK Signature Treatment 2013' (European Health & Spa Awards) and 'Therapist of the Year 2014' (Professional Beauty Awards) - SenSpa has a lot to celebrate.
Lina credits much of the success of the spa to its people:
"The individual and collective efforts of SenSpa's people has been the chief reason for our achievements. Each individual who works at SenSpa and Careys Manor brings their own special quality which forms our unique character."
Since its inception in 2004, SenSpa has recently extended its offering with a range of natural bath and body products.
Exclusive to Waitrose stores, The SenSpa Body Therapy Range has been developed to specifically to re-create the Spa's philosophy at home.
The range encompasses three main fragrances present in all their products - 'Relaxing', 'Nourishing' and 'Detoxing', all of which are made from 100% natural essential oils.
For more information about SenSpa, the Natural Body Therapy Range and to view a full list of awards from its 10 year history please visit http://www.senspa.co.uk.