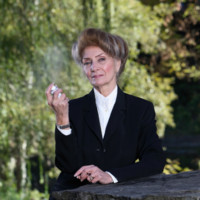 GRANTS PASS, Ore. (PRWEB) February 26, 2019
Water is the breath of life and the Power of Water® makes it possible for every living thing on earth to go on living. "Without nature's pharma®," says Sharon Kleyne every week on her internationally syndicated talk radio program, The Sharon Kleyne Hour Water Life Science®/Nature's Pharma®, The Power of Water® & Your Health sponsored by Nature's Tears® EyeMist® on VoiceAmerica and World Talk Radio and directed by Rose Hong, founder of Global Dragon TV in Washington, D.C. "Dr. Pollack's discovery of a new fourth phase of water deepens our understanding of water research, new water technology and the work to combat dry eye disease and blindness."
Pollack, Professor of Bioengineering at the University of Washington and the founding editor-in-chief of the journal, WATER, notes that Kleyne's decades-long global research into body water evaporation and the water evaporation of Earth's atmosphere encourages and inspires new water and technology researchers to turn their efforts to water and its essential primacy in the ongoing fight against disease and illness. As a result of Kleyne's efforts, Pollack points out, for example, that NASA is now studying water evaporation.
Kleyne has studied water evaporation for almost three decades. Like Pollack, she is a champion of global new water research and new water technology discoveries. "Without better water education for everyone," Kleyne says, "earth faces an ever-greater water crisis that threatens all life on the planet. Meanwhile, diseases like dry eye and blindness run rampant. This is a major reason why Dr. Pollack's 4th phase of water discovery is so very important."
Pollack explains his breakthrough discovery this way. "The water that fills your body is not regular H2O," says Pollack. "4th phase water is negatively charged," Pollack says, "and is slightly thicker than regular water. 4th phase water must be converted from the water we drink, and the energy that drives the conversion is infrared light. Imagine the first step of photosynthesis," Pollack suggests. "That first step is accepting the light. We get our energy from light and the water it converts, not just from food."
The implications of this discovery are monumental, Kleyne points out. Converting a 4th phase water from infrared light is also at the heart of her own water research into the Power of Water®, her creation of skin and eye care products such as Nature's Mist® Face of the Water® and Nature's Tears® EyeMist®, and a healthier new lifestyle, Water Life Science®.
On a grander scale, Pollack's discovery of a 4th phase of water will rekindle mass interest in water as a major research field and subject of scientific and academic interest. "This is exactly the kind of discovery the world desperately needs now, not later," Kleyne insists. "Water should be our top research, education and infrastructure priority. Without water, there is no breath of life, no cures for dry eye and blindness, and no healthy future for humanity."
Date aired: August 20th, 2018
Guest: Dr. Gerald Pollack, The Institute for Venture Science
Here is a link to one of Dr. Pollack's TEDx talks, this one on the fourth phase of water. https://www.youtube.com/watch?v=i-T7tCMUDXU
If you would like to listen to the program featuring Dr. Gerald Pollack and Sharon Kleyne, please follow this link: https://www.voiceamerica.com/episode/107858/4th-phase-of-water-and-your-health-with-dr-gerald-pollack