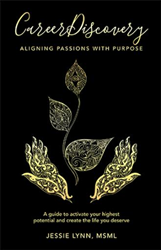 LOS ANGELES (PRWEB) June 26, 2019
— When author Jessie Lynn MSML read a Gallup study that found 70 percent of America's workforce was unfulfilled with their work and unhappy with their jobs, she set out to do something to change that number. She created "Career Discovery: Aligning Passions with Purpose" (published by Balboa Press), a call-to-action to foster a community of healing and discovery while inspiring individuals to wellness, purpose and abundance.
"Everyone deserves to live a purpose‐driven life, enjoy more fulfilling relationships, wake up energized every day, and discover a career that they are passionate about," says Jessie Lynn.
"Career Discovery" is at the intersection of metaphysical science and business strategy. The process takes the reader on a self-discovery journey to learn how to strengthen the brain to operate to full capacity through mental optimization techniques, and then align one's passion with purpose. The final stage of the journey is structured to create one's own company centered on what the reader loves to do.
"I want readers to be able to learn tools that will open up a new lens in how they view themselves. This is a path to self-realization, so that readers tap into their gifts, then learn to monetize their gifts, so that they can answer the callings of their soul. Jessie Lynn states, "Everyone deserves to know who they are and be given an opportunity to build their own legacy around what they love to do."
To purchase and to know more about the book, interested parties may visit https://www.balboapress.com/en-gb/bookstore/bookdetails/778394-career-discovery.
"Career Discovery: Aligning Passions with Purpose"
By Jessie Lynn MSML
Hardcover | 5.5x8.5 in | 250 pages | ISBN 9781982207441
Softcover | 5.5x8.5 in | 250 pages | ISBN 9781982207427
E-Book | 250 pages | ISBN 9781982207434
Available at Amazon and Barnes & Noble
About the Author
Jessie Lynn MSML has a 10-year record of accomplishment in business development applying wealth strategies for Fortune 500 companies. She earned her master's degree in management and leadership from Pepperdine University, graduated as cum laude, and she is pursuing her doctorate degree in neuroscience at the University of Metaphysics. Jessie Lynn has been recognized by The International Association of Women as their "Influencer of the Year" in 2018 for her impact on entrepreneurs and experts who, with her guidance, begin to see their own life and work through a new lens; one with clarity and purpose as they boldly reinvent themselves. Through her books, one-on-one coaching, workshops and empowerment sessions, Jessie Lynn is leaving her mark on the world, building a legacy that creates value for millions of people.