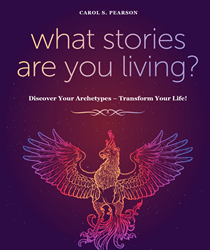 The experience of reading this book and discovering your archetypes is a call to authenticity and potential greatness.
GAINESVILLE, Fla. (PRWEB) March 22, 2021
In "What Stories Are You Living?," renowned archetype expert Carol S. Pearson guides readers through the journey of discovering and understanding the archetypes active in everyone's lives. These universal themes may be invisible but through this book readers will learn how these themes inspire the behaviors and relationships that drive everyone's life story.
This book, and the included access to the Pearson-Marr Archetype Indicator® (PMAI®) instrument that comes with it, reveals how to live archetypal stories more consciously and powerfully. Its larger purpose is to develop narrative intelligence and the capacity to recognize story patterns in ourselves and in the world as a fundamental life skill.
Dr. Carol S. Pearson, coauthor of the PMAI® assessment, internationally recognized scholar, and well-known author of numerous books, shares actionable ideas, theories and data throughout the book. Readers will find two rich sets of archetype descriptions to help recognize archetypal patterns in inner and outer life, with numerous inspiring examples of how people utilize this knowledge to enhance their lives, along with a review of how each archetypal character appears in classic myths, literature, and modern films.
"As I began developing the book's content, I was able to integrate deeper insights from Jungian and archetypal psychology into practical uses of PMAI results," says Pearson. "I realized that this work could also be augmented by weaving into the book innovative developments in neuroscience, contemporary research on story, and in the fields of coaching and leadership development."
The experience of reading the book is a call to authenticity and potential greatness, providing benefits to many professional and personal situations, including instructors and students in creative writing and game-making classes, coaches, counselors, consultants and their clients, and anyone wanting to help team members work together more effectively.
So many people are yearning for greater depth, and archetypal stories can function as portals to find that depth as we engage in the practical tasks of living moral and productive lives. "What Stories Are You Living?" provides motivation and energy to live authentic lives by revealing evocative images, characters, and narratives to help everyone live their best life story.