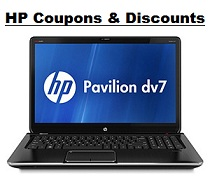 Shoppers can instantly save $125 or more by taking advantage of HP's weekly coupon offerings.
(PRWEB) April 21, 2014
New online HP laptop and desktop coupons have just been listed on the Bizwaremagic.com site, where potential Hewlett-Packard customers can save $125 or more instantly. These discount coupons are an ongoing feature of Bizwaremagic, a 12 year old small business site which operates a handy Laptop Buyer's Guide for the benefit of its visitors and patrons. Each week new coupons are posted so that these guide subscribers can save money on HP products.
HP coupons are usually divided up into different groups or categories, these include "general" coupons that can be applied to select HP laptops or desktops being purchased - some of these offers can be combined to achieve greater savings. Then there are specific or individual "laptop" and "desktop" coupons that can be applied or used to get a discount on a specific laptop and desktop HP model. Lastly, there are "printer" coupons which can be applied/used to get savings on the different printers offered by Hewlett-Packard. In order to use these coupons computer buyers only have to click the discount link and/or supply the coupon code at checkout.
Newly listed "general" coupons include the following deals: save an additional $15 off your online order of $75 or more; save $125 instantly on the purchase of any customized HP Laptop or Desktop PC $799 or higher and get up to 40% off HP printers and All-in-Ones.
The latest "laptop" coupons include the following: save $50 on the HP Pavilion 17z-e100 Notebook PC for around $399; get $50 off the HP ENVY 15t-j100 for only $599.99 and receive $130 off the ENVY TS 15t-j100 Quad - priced at around $999.
New "desktop" coupons have the following discounts: save $120 on the HP Pavilion 500-210qe PC for around $599; save $150 on the HP ENVY 700-215xt Desktop PC with Windows 7 for only $699.99 and get $130 off the HP ENVY Recline 27-k150xt TouchSmart All-in-One Desktop PC for around $1,299. Lastly, there are the "printer" coupons: get 40% off the HP Officejet Pro 8600 Plus e-All-in-One Printer for around $179 and save 25% on the HP Photosmart 7520 e-All-in-One Printer for Only $149.99.
The current sale runs from April 20th to April 26th, 2014. Potential customers must remember quantities may be limited and these offers may end at any time. Free shipping is also offered on most items but check the official HP site for all terms and conditions.
The special Bizwaremagic HP Notebook Coupons Page can be found here: http://www.bizwaremagic.com/HP_Notebook_Coupons.htm or download our comprehensive free laptop buying guide here: http://www.laptopcomputerguide.org All products/companies mentioned above are registered trademarks of their respective owners and companies.