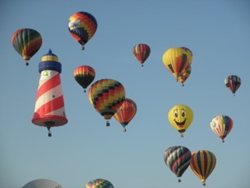 Trenton, NJ (PRWEB) June 24, 2015
New Jersey boasts a lot of hot air and that's a good thing because it allows beautiful, billowing balloons to soar above the Garden State's undulating terrain and iconic Atlantic shore.
The 33rd Annual QuickChek New Jersey Festival of Ballooning, which will be held July 24-26 at Solberg Airport in Readington, is the largest summertime hot air balloon and music festival in North America. The Festival is truly an international event, attracting pilots from 25 states and four countries, as well as 165,000 attendees. Watch daily ascensions, listen to live music—including headliner Kansas—and even take a balloon ride. On Saturday night, the balloons will glow like huge fireflies for a magical moment.
The modern hot air balloon hasn't changed very much from the aircraft developed by France's Montgolfier brothers more than 200 years ago. Today's balloons consist of a rip-stop nylon envelope, a wicker basket, a propane burner, and flight instruments. Heated air inside the envelope creates a lighter and less dense air mass, which allows the balloon to fly. When the balloon lifts free, wind dictates the direction and speed of flight. The pilot can alter direction by changing altitude and finding a favorable wind.
Passenger balloon companies operate throughout New Jersey and offer flight itineraries to suit every fancy. Soar over rolling hills, scenic farmlands, meandering rivers, and breathtaking vistas. Photo opportunities abound, as do champagne toasts upon landing.
For the chance to float above it all, visit http://www.visitnj.org