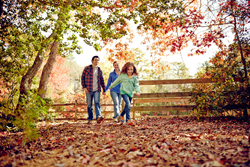 Trenton, NJ (PRWEB) October 09, 2014
New Jersey is a great state for hiking and experiencing Mother Nature, especially in the fall when the weather is crisp and the leaves are at their colorful best. Exhilarating and exciting hiking trails criss-cross the state, top to bottom, meaning there are good choices from every starting point.
The following list of top fall hikes in New Jersey is based on feedback from hikers who have trekked the terrain and experienced the season's splendors. The most popular hiking areas are found in spectacular settings like parks, forests, and waterways, and include will reveal cascading waterfalls and old ruins, highland overlooks, even vistas of the New York City skyline.
As always, http://www.visitnj.org is the central point for information about navigating the Garden State and its many outdoor options.
The helpful hike Web site, http://www.njhiking.com/hiking-101, also provides important details about favorite locations, the level of expertise required for a comfortable and enjoyable adventure, tips from hikers who've made the hike and specifics to know before embarking.
So lace up a sturdy pair of shoes and start exploring.
# # #
Mt. Tammany – Delaware Water Gap
Hike the New Jersey side of the Delaware Water Gap in Worthington State Forest. The trailheads steeply uphill to a fantastic overlook of the "Gap" – the break in the Kittatinny Mountains that was carved by the Delaware River. Great views of the surrounding area and Mt. Minsi across the way afford an opportunity to watch hawks catch the thermals.
Stairway to Heaven: Pochuck Valley to Pinwheel Vista
The gorgeous and diverse section of the Appalachian Trail meanders through northern New Jersey traversing boardwalks, a suspension bridge, and hardwood forest, fields of wildflowers, train tracks, a cow pasture, and a boulder field. Then it steeply climbs the "Stairway to Heaven" to one of the best viewpoints in the State: Pinwheel Vista. The Kittatinny Mountains are visible in the distance, farms in the valley below, and on a clear day, High Point Monument.
Ramapo Mountain State Forest
Ramapo Mountain State Forest offers an extensive network of trails that allow hikers to create loops of varying lengths, each with lots to see. Located in Bergen and Passaic Counties, this popular area can be packed with hikers in and around the lake and Van Slyke Castle. Crowds diminish further into the park.
Buttermilk Falls, Crater Lake, Hemlock Pond
Buttermilk Falls is New Jersey's highest waterfall at 200-feet high and no climbing is required to see the falls. For multiple views from various angles, an elaborate set of stairs allows more creative panoramas. A steep uphill climb meets up with the Appalachian Trail to Crater Lake and eventually leads to Hemlock Pond. The Buttermilk Falls Trail offers limited views.
Sunfish Pond
Sunfish Pond is a glacial lake situated 1,000 feet above surrounding forested countryside.
Hacklebarney State Park
The Black River is the centerpiece of this gorgeous park in Chester, New Jersey. It's an ideal location for outdoor photographers.
Coppermines Trail
Water cascades are part of this big loop hike that offers multiple adventures including lush trails and streams, old mines now closed, ridge hiking with rural Jersey panoramas, a fire tower, rhododendron tunnels and a swamp.
Sussex Branch Trail
This rails-to-trail provides access to Cranberry Lake on its west shore from Waterloo Road and a segment of the Highlands Trail also makes its way through this region of the Skylands. Whether a relaxed stroll or a strenuous day-hike, there are trails here for everyone.
Chikahoki Falls
Situated in Norvin Green State Forest in the Jersey Highlands, Chikahoki Falls includes Otter Hole and a spectacular 360°view from Wyanokie High Point of the surrounding area and New York City on a clear day.
Apshawa Preserve
Waterfalls and a dam are part of this scenic area that also includes overviews of the Jersey Highlands and Butler Reservoir. Ruins dot the area that offers a glimpse of the New York City skyline.