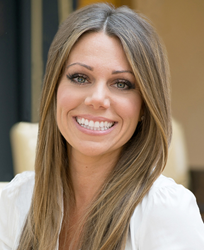 I am very excited for this next chapter in my career to work hand in hand with the elite group at NJ Lenders
Morristown, NJ (PRWEB) December 20, 2019
NJ Lenders Corp. is pleased to announce the addition of Loan Officer Stephanie Rizzuto to our office located at 912 Mt. Kemble Ave., Morristown, NJ. Stephanie comes to us with over 10 years' worth of experience and over $350 million in closed mortgages. She previously worked as a Branch Partner and Loan Originator for Absolute Home Mortgage Corp. in Morristown, NJ.
Her hard work and dedication have earned her Morristown, NJ branch "Best of the Best" for 2014, 2015, 2017 and 2018 as featured in the Daily Record.
Through her determination and drive, and level of service that goes above and beyond client expectations, she is here to help her clients every step of the way from beginning to end of the mortgage process – while making it stress-free and maybe even a little fun!
When Stephanie is not working, you can find her indulging in snuggle time with her two children, Zoey and Ryan, exploring fun activities outdoors with her husband, Manny, and the occasional (okay frequent) retail therapy.
"I am very excited for this next chapter in my career to work hand in hand with the elite group at NJ Lenders," says Stephanie.
Welcome to NJ Lenders Corp. Stephanie!
About NJ Lenders Corp.
Founded in 1991, NJ Lenders is a leading NJ-based residential mortgage banker that is privately owned and licensed. The company currently originates first mortgage loans in NJ, NY, CT, PA, VA, MD, and FL. With 11 offices and over $25 billion in closed mortgage loans, many of their Mortgage Loan Originators are recognized nationally as the best in their field. The company has competitive rates and fees with a wide variety of mortgage programs to select from.