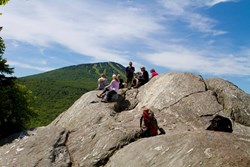 Killington, Vermont (PRWEB) October 31, 2013
New Life Hiking Spa has been consistently picked as one of the top ten spas in the world by SpaFinder Wellness Reader's Choice Awards for hiking, outdoor adventure, solo travel, weight loss, affordability and fitness classes over the past decade. The yearly competition asks readers to pick from over 20,000 spas and travel destinations worldwide. Honors in each category were awarded to the top ten spas and wellness locations in the world in twenty six different categories. New Life Hiking Spa is proud to be the 2013 winner for:
Best for Weight Loss
Best for Affordability
Best for Outdoor Adventure
Best for Men
Best for LGBT
New Life Hiking Spa was also recognized by SpaFinder Wellness as one of the 25 pioneer spas that have shaped the spa industry as it is today. The founder and director, Jimmy LeSage, M.S. is also a former winner of one of the top ten spa managers.
Packages at New Life Hiking Spa can range from a 3-4 night mini getaway to an 11 night or longer Weight Loss Retreat. All inclusive nightly rates start at $229 per night and include a deluxe room, three healthy meals, the hiking program, cooking classes, all fitness classes and one massage for each three night stay.
About New Life Hiking Spa:
Founded 35 years ago, New Life Hiking Spa is an internationally recognized affordable destination spa for men and women located in the beautiful Green Mountains of Vermont. Known for its exhilarating hiking program, delicious healthy meals and a comfortable atmosphere, New Life Hiking Spa offers the chance to experience the peace of the outdoors in a down-to-earth, country inn environment.
New Life is open each year from mid-May through the end of September and welcomes approximately 700 visitors each year from around the world.
More information can be found online at http://www.newlifehikingspa.com or http://www.WeightLossSpa.com.