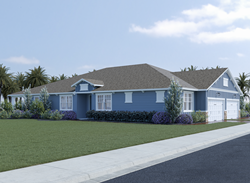 The Twin Homes Collection by Lennar is an exceptional series of single-level homes. We are excited to add these new homes to our existing portfolio of premium homes at Arden
PALM BEACH COUNTY, Fla. (PRWEB) February 04, 2022
Arden, Palm Beach County's first master-planned agrihood by Freehold Communities, unveiled today a stunning new collection of paired villas by national homebuilder, Lennar Homes. The luxurious Twin Homes Collection will release its two floorplans for sale today.
Ranging from 1,954 – 1,956 A/C square feet, these spacious 3-bedroom, 2-bathroom villas offer enticing curb appeal with a single-family home feel. The Twin Homes Collection features two innovative floorplans – the Buttonwood and the Juniper – each offering three different elevation styles. Every Twin Home features Smart Home Technology, energy-conscious features, and lavishly modern interiors. Pricing for these exceptional homes starts in the mid-$400,000s.
"The Twin Homes Collection by Lennar is an exceptional series of single-level homes. We are excited to add these new homes to our existing portfolio of premium homes at Arden," said Michael Meyers, Lennar's Division President. "As all homes built by Lennar, our paired villas offer considerable value and exceptional craftsmanship, and we know that our homebuyers will love and enjoy these homes for years to come."
Suzanne Maddalon, Senior Vice President of Marketing at Freehold Communities added: "We are thrilled to start the new year by expanding Arden's selection of homes. Whether you're looking for a one-of-a-kind community with a farm-to-table lifestyle and a strong connection to nature, a home located near top-rated schools, or endless activity and entertainment options, you will find it all at Arden."
The new Twin Homes Collection joins Lennar's Providence, Stanton, Arcadia, and Waterford Collections, as well as the 70' Collection by national builder Ryan Homes, already available at Arden. As more homebuyers prioritize healthy living and modern luxury, Arden is the perfect community for those seeking fresh air, fresh food, and a fresh way of life. Arden residents enjoy stunning views, twenty miles of nature trails, a bi-level resort-style pool and community Lakehouse, and a five-acre farm that provides families with organic produce, helping them lead healthier lifestyles.
Lennar's new Twin Home Collection is currently available to tour virtually at Arden. For more information or to see photos of these magnificent homes, please visit http://www.ardenfl.com.
About Arden
Master-planned by the visionary development team of Freehold Communities, Arden was brought to life by an impressive collection of top-quality homebuilders, including Lennar, D.R. Horton, Kenco Communities, and Ryan Homes. Located at 660 Arden Lake Way, Wellington, FL 33470, Arden is just minutes from A-rated schools, top hospitals, five-star restaurants, and the state's leading equestrian sports venue.
About Freehold Communities
Freehold Communities, headquartered in Boston, MA, is currently developing over 25,000 residential units within mixed-use and master-planned communities in Texas, Tennessee, North Carolina, South Carolina, Georgia, Florida, Virginia, and California. Freehold creates Vital Communities that embrace healthy living, engagement, connectivity, stewardship, and distinctive home design. As it evaluates opportunities, the company focuses on the right planning, the right properties, and the right partners. Beginning with comprehensive research to gain insight into the unique needs, trends, and preferences in the local market, Freehold carefully considers each property to determine how to best maintain its beauty and character to create a Vital Community by partnering with quality, creative builders who share freehold's philosophy of offering niche solutions and unique, timeless designs. To learn more, visit http://www.FreeholdCommunities.com.
About Lennar
Lennar Corporation, founded in 1954, is one of the nation's largest builders of quality homes for all generations. Lennar specializes in producing affordable luxury-style homes. Combining expert craftsmanship and affordable pricing, Lennar Corporation has earned a reputation over decades for being a premier name in home construction and is a leading provider of homes within the South Florida region. Previous press releases and further information about the company may be obtained at the "Investor Relations" section of the company's website, https://www.lennar.com.