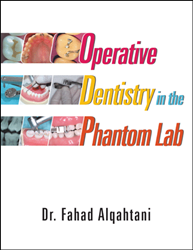 RIYADH, Saudi Arabia (PRWEB) April 09, 2019
Dr. Fahad Alqahtani marks his debut in the self-publishing stage with the release of "Operative Dentistry in the Phantom Lab" (published by Partridge Singapore). Through simulation, the book trains dental students to improve their chances of being successful when working on real patients.
"Before they work on real patients, it is important for dental students to practice treatments on phantom lab heads and ivory teeth," Alqahtani says. "While dental simulators are available for specific areas, such as restorative dentistry and prosthetics, they are not available in all dental colleges because of the high expense."
"Operative Dentistry in the Phantom Lab" simulate operative dental cases for dental students and their supervisors in a phantom lab. The book includes more than 800 high-resolution images, illustrations and tables. Tools and instruments are explained as well as the common terms used in operative dentistry.
Simulating systems for caries lesions and their corresponding restorative treatments are shown in the phantom lab. Radiographic images and clinical photos are included to help students make the correct caries lesions diagnosis.
From easy procedures, such as practical step-by-step rubber dam techniques to retainer application, and teeth preparation and correspondent restorations with amalgam or composite restoration, the book is an important resource for prospective dentists and those new to the field.
To purchase and know more about the book, reads can visit https://www.amazon.com/Operative-Dentistry-Phantom-Fahad-Alqahtani/dp/1543749100.
"Operative Dentistry in the Phantom Lab"
By Dr. Fahad Alqahtani
Hardcover | 8.5 x 11in | 226 pages | ISBN 9781543749106
Softcover | 8.5 x 11in | 226 pages | ISBN 9781543748161
E-Book | 226 pages | ISBN 9781543748178
Available at Amazon and Barnes & Noble
About the Author
Dr. Fahad Alqahtani is a restorative dental consultant who prides himself on teaching students in direct, practical ways. He graduated from King Saud University Dental College in 1996 and taught at Riyadh Dental College in the Kingdom of Saudi Arabia from 2006 to 2014. He has been widely published in the dental field.