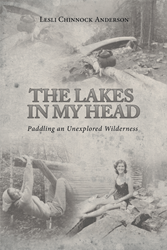 MINNEAPOLIS (PRWEB) September 04, 2018
September is Hydrocephalus Awareness Month which celebrates and honors the estimated one million Americans touched by hydrocephalus according to the Hydrocephalus Association. Hydrocephalus is a condition that affects both people and animals worldwide by preventing cerebrospinal fluid from freely flowing in the "lakes, creeks and rivers" inside the head causing difficulties such as headaches, impaired vision and cognitive issues.
Author Lesli Chinnock Anderson received her own diagnosis of hydrocephalus at the age of 45 after suffering from headaches and migraines her whole life. Her new medical memoir, "The Lakes in My Head: Paddling an Unexplored Wilderness," chronicles her voyage of hope and healing after receiving this life-changing diagnosis and having a shunt surgically placed in her brain to help drain the excess cerebrospinal fluid. Anderson is sharing her story to be used as a source of inspiration and encouragement for those struggling with hydrocephalus and other conditions and challenging life events.
"After my diagnosis, I experienced setbacks due to complications but still had numerous life events I had to go through and help with," said Anderson. "However, I was ultimately able to find a balance between being a mother, wife, pet parent, daughter, sister, friend and contributing member of my community and church while living with hydrocephalus and I want others to know they can be too."
"The Lakes in My Head" presents Anderson's journey through her hydrocephalus diagnosis in which she uses the parallel of preparing for and going on a paddling trip in the Boundary Waters Canoe Area in Minnesota – an activity she would often do with her friends prior to diagnosis – to help readers not familiar with the condition better understand the "lakes in their heads" and the experience one goes through while trying to balance everyday life while dealing with a serious medical condition. To learn more please visit, http://www.lesliandersonbooks.com.
"The Lakes in My Head: Paddling an Unexplored Wilderness"
By Lesli Chinnock Anderson
ISBN: 9781543413366
Available through Xlibris, Amazon and Barnes & Noble
About the author
Lesli Chinnock Anderson earned a Bachelor of Science in biology, completing a multitude of additional courses in medical and veterinary sciences, then going on to work in human hospital laboratories and as a veterinary assistant for almost twenty years. She was working on a veterinary technician degree when her hydrocephalus diagnosis and subsequent complications motivated her to change direction. Anderson is an active member in her church as her spiritual faith is an integral part of everything she does and enjoys the outdoors, being with her family and pets, music, giving support to others struggling with brain injury and has volunteered with the Hydrocephalus Association for over eight years.
Review Copies & Interview Requests:
LAVIDGE – Phoenix
Lauren Dickerson
480-998-2600 x601
ldickerson@lavidge.com