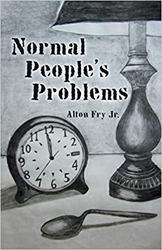 CLEVELAND, Ga. (PRWEB) November 27, 2018
Alton Fry Jr.'s honest memoir shares his life of addiction, love and incarceration, offering a firsthand look into the world of methamphetamine in small-town America in his debut book, "Normal People's Problems" (published by LifeRich Publishing). The book is available for purchase at: https://www.amazon.com/Normal-Peoples-Problems-Alton-Fry/dp/1489719490/.
Fry takes readers on an 18-year journey that details the path that lead him to prison for dealing drugs. In addition to detailing his own life, Fry describes his soulmate's experience with him. Together they made choices that significantly altered their lives in a negative manner, but eventually they were also able to find redemption and heal from their addictions.
"It's true. It's real. It will make you cry and laugh. It will make you thank god that you only read it, instead of living it. This is an instruction manual on how not to screw your life up," Fry says, reminding the reader if they are in a situation like he was, "that there is hope. That you can recover. The chains of addiction can be broken."
"Normal People's Problems"
By Alton Fry Jr.
Hardcover | 5.5 x 8.5 in | 240 pages | ISBN 9781489719478
Softcover | 5.5 x 8.5 in | 240 pages | ISBN 9781489719492
E-Book | 240 pages | ISBN 9781489719485
Available at Amazon and Barnes & Noble
About the Author
Alton Fry Jr. was born, raised, and still lives in Habersham County, which is nestled in the mountains of northeastern Georgia. At the age of 47, and finding himself in a Georgia Department of Corrections facility, he finally found the peace to write his first book, "Normal People's Problems." Fry is single and lives alone.
LifeRich Publishing, the strategic publishing partnership of Reader's Digest and Author Solutions, LLC, was created to provide all writers a platform for sharing their stories, recipes, advice and more. LifeRich authors will benefit from a wealth of editorial design, marketing and education resources, specially created by Reader's Digest editors for the enrichment of these LifeSmart individuals. Books can be published in print, ebook or audio formats, with additional distribution to up to 25 million Reader's Digest customers through its online properties. Follow @LifeRichPub on Twitter or "Like" us at facebook.com/LifeRichPublishing for the latest updates