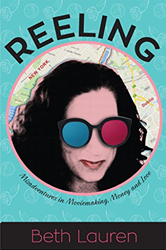 BROOKLYN, N.Y. (PRWEB) April 04, 2019
Beth Lauren makes her literary debut with Reeling: Misadventures in Moviemaking, Money and Love - a deeply moving, and at times, harrowing account of her multi-year journey to produce a romantic comedy; an experience that unlocked memories of the sexual assault she survived so many years earlier. This debut novel gives us a glimpse into how the #MeToo movement has affected all of us, and what some of us must do to heal and maintain our sanity. With her unique blend of wit and candor, Ms. Lauren takes the reader on two different but equally compelling journeys - one the riveting truth of the matter, as Beth seeks justice and pursues healing for her mind, body and soul; the other an imaginary path, as Beth channels her screenwriter's eye into a cinematic alternative history. This innovative hybrid memoir-screenplay is a romance any lovelorn woman or man can relate to, a tragedy any survivor can draw inspiration from; and a comedy with laughs for any reader on every page.
"As survivors, we gain strength by sharing our stories every day. Sexual Assault Awareness Month offers an opportunity for everyone to share resources and to commit to supporting survivors with the goal of finally ending this violence," Ms. Lauren said.
"Reeling by Beth Lauren encapsulates what so many in the #MeToo movement have come to feel—women are a force to be reckoned with. With wit and an engaging prose style, Beth Lauren makes that clear! "said Avi Gvili, President of Boulevard Books.
Reeling: Misadventures in Moviemaking, Money and Love is Beth Lauren's literary debut. She is currently working on a collection of short stories chronicling the year she lived in a conservative, economically-depressed town in New York State, which coincided with the 2016 presidential election. http://www.bethlaurenltd.com
Boulevard Books is an independent book publishing company owned and operated by Avi Gvili. Boulevard Books offers authors a 100% royalty structure with full marketing, editorial, and book design services. Boulevard Books has over 39,000 distribution outlets globally. http://boulevardbooks.org/