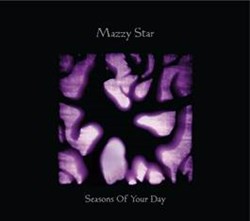 Mazzy Star's has created a a blissful array of music and lyrics that simply resonates with fans old and new.
- Damon Cleveland
CEO, theindie.biz
New York, NY (PRWEB) August 29, 2013
Indie band Mazzy Star announced the worldwide release of eagerly anticipated fourth studio album, Seasons Of Your Day. The alubum's new music is co-written and produced by Hope Sandoval and David Roback, Seasons Of Your Day was recorded in California and Norway. The album features performances by all the original members of Mazzy Star along with special guests including Colm O'Ciosoig (My Bloody Valentine) and a special appearance by the late, legendary Bert Jansch in a guitar duet of chilling intensity with David Roback on the song "Spoon".
The album is being released on Sandovol and Roback's own label, Rhymes Of An Hour Records, distributed through INgrooves. Formats will include CD, 180g vinyl double LP and digital download.
Seasons Of Your Day is Mazzy Star's fourth studio LP, preceded by She Hangs Brightly (1990), So Tonight That I Might See (1993) and Among My Swan (1996). Seasons Of Your Day is the second release on Rhymes Of An Hour Records and follows the single Common Burn / Lay Myself Down (2011).
Mazzy Star will release a video for the song "California" next month. The band performed a series of concerts in 2012 and will be announcing new North American and European tour dates for the fall of 2013. All of album's new music, and songs has been provided below:
Seasons Of Your Day Track List
1. In The Kingdom
2. California
3. I've Gotta Stop
4. Does Someone Have Your Baby Now
5. Common Burn
6. Seasons Of Your Day
7. Flying Low
8. Sparrow
9. Spoon
10. Lay Myself Down
About Mazzy Star
Mazzy Star is an American indie / alternative rock band formed in Santa Monica, California, in 1989 from the group Opal, a collaboration of guitarist David Roback and bassist Kendra Smith. Roback's friend Hope Sandoval became the group's vocalist when Smith left the band
About theindie.biz
theindie.biz is the music industry's leading marketplace for indie music. Founded by Damon Cleveland in 2008, theindie.biz helps expose new music created by indie artists and indie labels to a global audience of music lovers and impassioned fans. theindie.biz has 20,000 registered artists members in rock, pop, hip hop, R&B, and other genres. Additionally, theindie.biz has over 200,000 likes on Facebook (http://www.facebook.com/theindiebiz) and more than 100,000 followers on Twitter (http://www.twitter.com/theindie). To learn more, please visit http://www.theindie.biz.