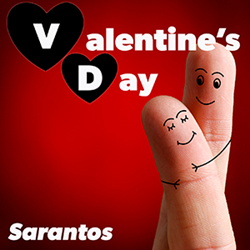 Love is not always appreciated. Life moves very fast. Everyone works hard and time is tight for most of us!
Park Ridge, IL (PRWEB) February 09, 2016
Sarantos Releases New Music Video For New Love Song "Valentine's Day".
Valentine's Day is a well known holiday that is celebrated once a year. It's commonly referred to as a day of love. Since Sarantos feels like love should be celebrated throughout the year, the aim of this new music video was to make something that fans can watch any time they want, regardless of what the calendar says.
Just as surely as Valentine's Day can be appreciated on any given day of the year, Sarantos encourages everyone to take a brief moment each day to tell those in their lives that they love them. "I love you" is a phrase that is not said enough. When the words are distinctly thrown at a lover, child or friend they have an impact that might not be immediately apparent. The words echo in a heart though and are imprinted forever into memory. They can be recalled at any a future point in time when a shot of confidence is needed.
"This is a special video about Valentine's Day," says Sarantos. "Love is not always appreciated. Life moves very fast. Everyone works hard and time is tight for most of us. The lead character is always busy with work but tormented by love in the few quiet, storminess moments in between a hectic schedule. He wants to commit to the woman he loves but is very nervous and weary. He has been burned by love and wants to make sure it is real this time. Will their love last? Will she stay? Does she understand him? He travels to London on a business trip and during his time there ultimately makes an impulsive decision. He returns back home early to surprise his lover on Valentines Day. He finds her waiting patiently for him. With a sense of clarity that escaped him previously, he proposes and is ready to take the next step. Of course this all transpires on Valentine's Day, which is now a day they will both remember for the rest of their lives!"
Sarantos won the Akademia LA Music Awards in 2015 for Best Song (What If I Never See You Again), Best Rock Song (Easy To Believe), Best Rock Ballad (The Veteran), Best Rock Music Video (We Accept The Love We Think We Deserve), Best Singer/Songwriter Song (A Mission Of Heart, I Sing), Best Pop Song (I Sing) & Best Pop Rock Album (Not Where I Wanna Be).
Sarantos has won twelve Beat 100 song & music video awards in 2015 and 2014. Sarantos was nominated for the International Music & Entertainments Awards in 2015 for "Rock Song of the Year" and in 2014 for "Rock Song of the Year" and "Pop Album of the Year." In 2014, he was also nominated for the Hollywood Songwriting Awards for Best Unsigned Song (Are You Sure You Can Last).
Even without a label or radio promoters, Sarantos song "What If I Never See You Again" has been in the top 200 on the majors list in the US for radio airplay according to the Digital Radio Tracker Top 200 charts. On the independent charts, Sarantos is still in the top 10. He's been on both these lists since early April.
33% of any music-related sales profits from this song are going straight to the American Heart Association.
To improve the lives of all Americans, the American Heart Association provides public health education in a variety of ways. They are the nation's leader in CPR education training. They help people understand the importance of healthy lifestyle choices. They provide science-based treatment guidelines to healthcare professionals to help them provide quality care to their patients. They educate lawmakers, policymakers and the public as we advocate for changes to protect and improve the health of our communities.
*Because Sarantos wants his music shared throughout the world, fans can always find all of his songs, lyric sheets, videos and books on his website for free. He openly gives everyone the right to share his song mp3s for free with anyone they want via email or any of the social media platforms.
**Fans can sign up for his free email list to get the inside scoop first and exclusive content available nowhere else.
iTunes & Apple Connect:
http://bit.ly/SarantosAppleStore
Spotify: