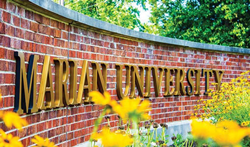 Her high intensity and drive to help athletes improve in the sport they love, is what make this new camp so unique.
SAN RAFAEL, Calif. (PRWEB) April 15, 2019
This will be Pritchard's first Nike Volleyball Camp with US Sports Camps. Pritchard is currently entering into her eighth season with the Knights, and just recently took the team to the NAIA National Tournament where they ended their season with a school's best record of 30-7. During her coaching career at Marian University, Pritchard has earned the AVCA "Thirty Under 30" award twice. This award recognizes up and coming coaches younger than 30 years old at all levels of volleyball.
The elite level of instruction that Pritchard brings to this Indianapolis volleyball camp will be evident in the drill work and technical instruction provided to campers.
"Pritchard's long history with volleyball is what we look for in camp directors," says Siera Love, National Volleyball Manager of Nike Volleyball Camps. "Her high intensity and drive to help athletes improve in the sport they love, is what make this new camp so unique. Under her instruction, players will be able to experience what it is like to play at the collegiate level."
Camp will take place in the newly renovated Physical Education Center that houses the Knight's basketball and volleyball teams and contains athletic training facilities. Here, players will partake in a series of drill work that emphasizes fundamentals, positional training, and game-like situations.
This camp is set to run July 22-25th as a day program, with 4-5 hours of daily volleyball instruction. Camp is geared towards girls ages 10-18 of all ability levels. Players will be sorted into groups based on their age and skill level in order to maximize their volleyball training experience.
Players, Coaches, and Parents interested in Nike Volleyball Camps can visit http://www.USSportscamps.com/volleyball or call 1-800-645-3226.
About US Sports Camps
US Sports Camps (USSC), headquartered in San Rafael, California, is America's largest sports camp network and the licensed operator of Nike Sports Camps. The company has offered summer camps since 1975 with the same mission that defines it today: to shape a lifelong enjoyment of athletics through high quality sports education and skill enhancement.