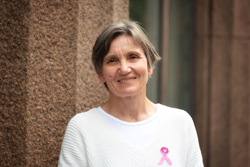 "This study, the first with Norwegian radiologists using 3D mammography, shows how AI can improve the efficiency of the radiologist's workflow by enhancing cancer detection without affecting reading time."
NIJMEGEN, Netherlands (PRWEB) October 01, 2021
Transpara breast care AI system is in clinical use in more than 25 countries worldwide, where it has received endorsement from more peer-reviewed clinical trials than any other breast AI product.
And now, Radiology, an important publication, reveals details of more benefits of using Transpara breast AI with 3D mammography.
The latest paper is a collaboration between Norway and the Netherlands, by M.C. Pinto, A. Rodriguez-Ruiz, K. Pedersen, S. Hofvind, J. Wicklein, S. Kappler, R. M. Mann, I. Sechopoulos entitled: "Impact of Artificial Intelligence Decision Support Using Deep Learning on Breast Cancer Screening Interpretation with Single-View Wide-Angle Digital Breast Tomosynthesis."
Radiology 2021; 000:1–8 (https://pubs.rsna.org/doi/10.1148/radiol.2021204432)
Key points:
In a retrospective observer study of 190 digital breast tomosynthesis examinations, the average detection performance of radiologists was higher when interpreting images with artificial intelligence (AI) support than when interpreting images without AI support (area under the receiver operating characteristic curve: 0.88 vs 0.85; P = .01).
Sensitivity improved with AI support (86% vs 81%; P = .006), with no differences in specificity (73% vs 71%; P = .48) or reading time (48 seconds vs 45 seconds; P = .35) being demonstrated.
The study concludes: Using a single-view digital breast tomosynthesis (DBT) and AI permits a more effective screening program with higher performance, especially in terms of an increase in cancers detected, than using single-view DBT alone.
Transpara, which is based on deep learning technology, is FDA cleared and CE marked for both 2D and 3D mammography. This means radiologists who began by applying it for 2D mammography can make a seamless transition to 3D without the costs of new hardware. In addition, this study highlights the improvements in accuracy that can be realised using AI as decision support.
Solveig Hofvind PhD, head of the Section for Breast Cancer Screening at the Cancer Registry of Norway and of BreastScreen Norway, one of the investigators in the study said, "This study, the first with Norwegian radiologists using 3D mammography, shows how AI can improve the efficiency of the radiologist's workflow by enhancing cancer detection without affecting reading time."
Natasja Janssen, Medical Affairs Lead at ScreenPoint Medical, commented, "Our clinical partners continue to help with this most extensive and robust body of evidence for the use of Transpara in both 2D and 3D mammography, across multiple vendors and with mammograms from a wide range of demographics in many countries. Transpara has been used in more than 1.6 million mammograms - proof that ScreenPoint Medical is delivering on its mission to bring effective AI to the fight against breast cancer."
For more information http://www.screenpoint-medical.com
Contact for ScreenPoint
Nicki Bryan (USA)
nicki.bryan@screenpointmed.com
+1 412 208 5991
David Lee (Europe + ROW)
david.lee@screenpointmed.com
+44 (0) 7470 299 318