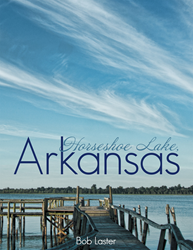 MEMPHIS, Tenn. (PRWEB) September 11, 2018
For over 50 years, Bob Laster has turned to photography as a creative outlet from his everyday life as a physician. Now, he is sharing with readers a glimpse of his former hometown in a peaceful and powerful collection of photos in his new book, "Horseshoe Lake, Arkansas," which captures the heart and soul of the town where he and his family lived for 30 years.
In this book of photos spanning three decades, Laster documents Horseshoe Lake's best fishing spots, places of worship, watering holes and more. Through his lens, he perfectly depicts the very essence of the close-knit towns of yesteryear and today.
"I wanted to show others the local beauty I witnessed for 30 years," Laster said. "The town has generational significance in my family; I lived there with my wife, my children grew up there and now our grandchildren are growing up there."
Following a fire on the docks near his home in this area, Laster felt compelled to thank the firefighters who worked so hard to ensure the fire did not spread to his family home. Thus, Laster plans to donate all proceeds from sales of the book to the Horseshoe Lake Fire Department.
"I can never repay them for saving our home, but this is my way of trying to show them my immeasurable gratitude," Laster said.
"Horseshoe Lake, Arkansas" will intrigue readers who long for the close-knit communities of decades gone past—communities in which everyone lent a helping hand and the neighbors seemed more like family members.
"Horseshoe Lake, Arkansas"
By Bob Laster
ISBN: 978-1480848917 (softcover); 978-1480848924 (hardcover); 978-1480848931 (electronic)
Available at the Archway Publishing Online Bookstore and Amazon
About the author
Bob Laster is a retired physician who has had an enthusiastic interest in photography for the last 50 years. During this time, he has photographed the countryside around Horseshoe Lake, Arkansas, including its lake scenery and surrounding countryside. Laster believes Horseshoe Lake is just one of the many small communities that contribute to the strength of the United States of America. He currently resides in Memphis, Tennessee. To learn more about Laster, please visit https://www.boblasterphotography.com.