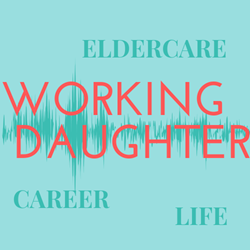 At Working Daughter we're on a mission to make sure no one goes through caregiving alone.
BOSTON (PRWEB) September 19, 2019
Working Daughter, a community for women balancing eldercare, career, and more, has launched a new podcast series aimed at the millions of Americans caring for aging parents. Hosted by Liz O'Donnell, founder of Working Daughter and author of the new book, Working Daughter: A Guide to Caring For Your Aging Parents While Making A Living, the Working Daughter podcast addresses some of the pressing issues related to caregiving including balancing career and eldercare, caring for someone with dementia, and hiring and managing paid caregivers to help parents age at home. O'Donnell interviews a slate of experts and family caregivers who shed light on both the challenges family caregivers face as well as the approaches and policies that can help.
The first three episodes are available now, with nine new episodes scheduled to be released weekly through November. The Working Daughter podcast is available on Apple Podcasts, Stitcher and other podcast distribution providers.
"There are more than 40 million family caregivers in the United States and they are struggling – struggling to balance their careers and their family responsibilities, seeking answers to their care-related questions, and looking for a community and conversation that addresses their experiences as caregivers," says O'Donnell. "At Working Daughter we're on a mission to make sure no one goes through this alone."
The Working Daughter podcast is sponsored by Wellthy. Visit http://workingdaughterpodcast.libsyn.com/ to download the latest episodes.