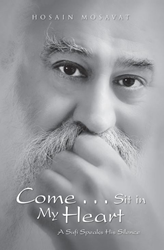 "Love saved Hosain from the aftermath of a war, saved him from heartache, drove him to poetry and brought him many friends and treasures of friendships." - Judy Mosavat
WHITMORE LAKE, Mich. (PRWEB) January 07, 2019
When the late author Hosain Mosavat came to America from Iran, he started writing poetry. As he wrote poems over the years — all 26,000 of them — his wife, Judy Mosavat, collected and published them into books.
"Come… Sit in my Heart: A Sufi Speaks his Silence," one Mosavat's works, is a unique poetry book that inspires people to open their hearts and live from love. In a time of great divisiveness, the book provides links between people and lets them know that "all that separates us is artificial."
After his survival of the 1953 revolution against the Shah, Mosavat was determined to bring peace and harmony into the world.
Mosavat himself was a great example of this, as he himself expressed love and taught others love as a way of life. He also showed others that anyone with a heart is capable of bringing love into the world.
"Love saved Hosain from the aftermath of a war, saved him from heartache, drove him to poetry and brought him many friends and treasures of friendships," Judy Mosavat said. "Hosain has always said that without love he would have had no life."
In "Come…Sit in my Heart: A Sufi Speaks His Silence" poetry lovers will rejoice in the words of a wise man, showing them that love is possible for all.
"Come…Sit in my Heart: A Sufi Speaks His Silence"
By: Hosain Mosavat
ISBN: 978-1-4257-7969-6 (hc); 978-1-4257-7968-9 (sc)
Available at the Xlibris Online Bookstore, Barnes and Noble and Amazon
About the Author
Hosain Mosavat was born in Shiraz, Iran, the birthplace of two giants of Persian Poetry, Saadi and Hafez. When Mosavat came to America, he began to write poetry and was a teacher of math and physics for 30 years. He also wrote two other books, "If I Hold You in my Teardrop" and "The Heart Whisperer" and has three more books in the works. His mother read him Rumi poetry as a child and that began his heart's journey. He is survived by his wife, Judy Mosavat. For more about the late author and his book, please visit: http://www.AWinkForYourHeart.com
Review Copies & Interview Requests:
LAVIDGE – Phoenix
Lauren Dickerson
480-998-2600 ext. 601
ldickerson@lavidge.com