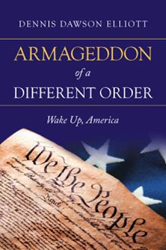 BLOOMINGTON, Ind. (PRWEB) February 26, 2019
The U.S. Constitution is not understood. False claims are routine. Collaboration and compromise are non-existent. Inflammatory and exaggerated rhetoric the order of every day. President Donald Trump woke up in the White House unprepared for what lay ahead of him, and the country is slowly waking up to the disorder he creates. Dennis Dawson Elliott explores the chaotic path of the Trump administration in his debut publication, "Armageddon of a Different Order: Wake Up, America," published by iUniverse.
Elliott examines various aspects of the president's approach to the office, the manner in which he governs and his exhibited shortcomings as a leader. Sifting through the false claims pronouncements each day is a challenge for all, and the president's notion of successes are not easily substantiated by facts and evidence. "President Trump needs to think about how childishly he presents himself. Unlike a child, he just can't take his ball and go home as a child might do when challenged. The country is not his ball to play with...ever."
"It is disconcerting to think that the country's well-being for its citizens and its place in the world is all left to whims and serendipity." Elliott assesses the consequences of the Trump presidency to date which he believes is certain to play out as a downward spiral of lost opportunity. "Logically connecting the dots of his shouted scheme of governing is quite impossible. The country is constantly faced with more Trump dots, presented most commonly as inaction or distractions that either confuse or camouflage clear and informed direction."
Elliott encourages readers to look at facts, dismiss ideological biases and take stock of what is occurring. "The Latin phrase lux et veritas, light and truth, shall guide the future of the United States. Why? Presidents, members of Congress and leaders of essential government agencies come and go, but the citizens of the United States remain the constant in our democracy. They are the foundation and backbone of progress but without access to truth, the light of the country will be irreparably dimmed."
To purchase a copy of the book, visit https://www.amazon.com/Armageddon-Different-Order-Wake-America/dp/1532061994.
"Armageddon of a Different Order: Wake Up, America"
Hardcover | 6 x 9in | 224 pages | ISBN 9781532062018
Softcover | 6 x 9in | 224 pages | ISBN 9781532061998
E-Book | 224 pages | ISBN 9781532062001
Available at Amazon, Barnes & Noble and iUniverse.
About the Author
Dennis Dawson Elliott has had a distinguished career in public affairs, advertising, marketing and medical education, predominantly in the pharmaceutical industry. Elliott had a 22-year career with Bristol-Myers with his last position as director of advertising for the U.S. Pharmaceutical and Nutritional Group and he has led other media organizations. He is a retired professor from the School of Journalism at his alma mater Indiana University, with an academic focus in the fields of public relations, media ethics and business journalism. He has also conducted research on the use of cellular communication technology for HIV/AIDS education and patient management in Sub-Saharan Africa.