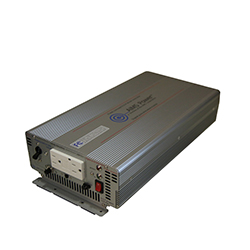 Reno, NV (PRWEB) February 28, 2014
AIMS Power is excited to announce the release of their new line of pure sine power inverters. These new models are offered in 1500, 2000, and 3000 watts with 12 volt DC inputs and select models are available in 24 and 48 volts DC. They are ideal for use in vehicles, RVs, work trucks, off-grid cabins and homes or for back-up power in the event of a power outage. It is becoming more and more important to have mobile and on demand power sources, and AIMS Power Inverters are ready to meet the need.
The new models, PWRIG150012120S, PWRIG200012120S and PWRIG300012120S, were designed with safety in mind and feature GFCI outlets and are all FCC rated. These new inverters are also highly efficient meaning they will not drain unnecessary power from your batteries; translating to longer run time and lower battery discharge.
Boasting a 0.5 second surge at double their continuous capacity, these inverters trump the previous pure sine models which were only equipped with a 40ms surge. Start-up surges are an important thing to keep in mind when running motors, heating elements, or compressors as they will all draw more current when getting powered up. These heavy duty inverters will deliver clean pure sine power, with very low THD (less than 3%), so you won't have to worry about lines in your TV, interference with sound equipment, or issues running things like microwaves, cordless tool battery chargers, or Laser Jet printers. Designed as "industrial grade" units, they will be able to maintain steady output AC voltage, even as your battery voltage decreases.
With a sleek and low-profile design, mounting these inverters will no longer be a chore. Standing at only 3.5" tall, they will easily fit under standard vehicle seats, and pre-slotted railing will allow for simple and permanent installation. The 3000W Pure Sine Inverter, model PWRIG300012120S, is outfitted with a direct connect terminal block so the full power of the inverter may be harnessed through one output. This terminal block will provide all 3000W to remote outlets, an outlet strip or a single device depending on how you choose to install.
About AIMS Power
AIMS Power has become a multimillion dollar company because of commitment to the inverter industry. Inverters will be sold worldwide regardless, but innovation combined with excellent customer service separates AIMS Power from the competition. Buying an inverter is almost never a cut-and-dry process so AIMS Power prides itself on being the most accessible company in the inverter industry when it comes to technical support and providing quality information to our customers via AIMS Power's communication platforms. Inverter users call and e-mail AIMS Power's technical support and customer service teams daily from all over the world with issues ranging from aftermarket boat upgrades to backup power systems during hurricane season, and they always reach a real person with a real commitment to solving their problem — no matter how big or small. To contact the AIMS Power Inc., simply call (775)359-6703 or e-mail them at sales(at)AIMScorp(dot)net. Like us at Facebook.com/AIMSpowerInverters and follow us on Twitter @AIMSpower for more inverter information and AIMS Power promotions.