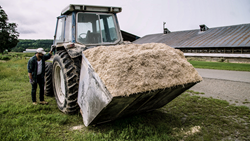 At Purolator, we recognize the commitment made everyday by American workers in doing a job - and doing it well.
RALEIGH, N.C. (PRWEB) August 28, 2018
Purolator has released a new video, titled "Labor Day the Purolator Way," to honor the contribution, achievement and dedication of all workers.
From communication tower climbers to farmers tending the fields to nurses taking on double shifts at the hospital, it all takes hard work and commitment to completing the task at hand. To pay tribute to these hard-working individuals, Purolator produced the video to highlight the vast array of jobs people perform every day to keep the country moving forward.
"At Purolator, we recognize the commitment made everyday by American workers in doing a job - and doing it well," said Tina Davis, senior marketing manager of brand and communications at MANN+HUMMEL Purolator Filters LLC. "That's what we put into our products. And that's what we see in our customers—a strong work ethic, appreciation for quality and a nothing-gets-by-us mentality."
To watch the video, visit Purolator's YouTube channel or http://www.pureoil.com. Be sure to also follow Purolator on Facebook, so you can share the video posts with the hard workers in your life this Labor Day.
Press contact:
Erin Collins
+1 716-629-3176
ecollins(at)gelia.com
About Purolator
Purolator is an innovator of automotive filtration products for the aftermarket, manufactured to the highest standard by American workers in Fayetteville, N.C. Trusted by professional automotive technicians and do-it-yourself consumers across North America, the Purolator product line includes oil, air, cabin air and fuel filters. An industry pioneer since inventing the first oil filter in 1923, Purolator is backed by an internal team of forward-thinking engineers and countless filtration patents. The company's mission to deliver solutions to support the improved performance of advanced engine and oil technologies reinforces a renewed brand promise – "Nothing Gets By Us.™" For more information, visit http://www.pureoil.com.
About MANN+HUMMEL
MANN+HUMMEL is a leading global expert for filtration solutions. The company group with its headquarters in Ludwigsburg, Germany, develops solutions for motor cars, industrial applications, clean air in interior spaces and the sustainable use of water. In 2016 the group achieved sales of approximately 3.5 billion euros worldwide with more than 20,000 employees at more than 80 locations. The products manufactured by the group include air cleaner systems, intake manifold systems, liquid filter systems, plastic components, filter media, cabin filters, industrial filters and membrane filters.
Further information about MANN+HUMMEL is available at http://www.mann-hummel.com