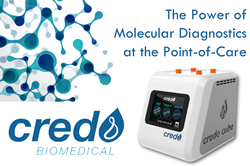 "With our solution, you no longer need to make tradeoffs between diagnostic tool performance and cost."
JUPITER, Fla. (PRWEB) April 17, 2019
An upcoming episode of Innovations with Ed Begley Jr. will focus on advances in revolutionary diagnostic technologies. This episode is scheduled to air 3Q 2019 on FOX Business. Check your local listings for more information.
In this segment, Innovations will focus on Credo Biomedical Pte. Ltd. (Credo Biomedical), a molecular diagnostic company from Singapore dedicated to developing advanced diagnostic technologies for the masses. Credo develops, manufactures, and commercializes accurate, rapid, easy-to-use, and cost-effective molecular diagnostic solutions for Point-of-Care (POC) applications.
Viewers will learn about Credo Biomedical's POC Real-Time PCR platform, which provides medical professionals with molecular diagnostic results at the point-of-care, to make critical decisions at a cost level traditionally reserved for rapid test.
"Healthcare is a topic everyone can relate to. People would do anything to restore the health of their loved ones," said Stephen Kao, CEO of Credo Biomedical. "Credo Biomedical is a diagnostic company that provides health professionals with the information they need to make critical decisions. Our core motto is to provide advanced medical technology to the masses. We really appreciate the opportunity to be featured on Innovations with Ed Begley Jr. to let people know that, with our solution, you no longer need to make tradeoffs between diagnostic tool performance and cost."
Audiences will be educated about the importance of diagnosis, the areas in diagnosis that can be improved, and about Credo's approach in resolving these issues.
About Credo Biomedical:
Credo Biomedical develops and manufactures innovative, cost-effective, and rapid Molecular Diagnostic solutions at the Point-of-Care (POC) in the areas of Animal Health and Human Health. Credo Biomedical believes that by providing the right information, at the right time, and to the right people, it can improve the lives of billions of people and animals around the world.
For more information visit http://www.credobiomed.com.
About Innovations and DMG Productions:
Innovations, hosted by award winning actor Ed Begley, Jr., is an information-based series geared toward educating the public on the latest breakthroughs in all areas of society. Featuring practical solutions and important issues facing consumers and professionals alike, Innovations focuses on cutting-edge advancements in everything from health and wellness to global business, renewable energy, and more.
Backed by experts in various fields, and a team dedicated to education and advancement, DMG Productions consistently produces commercial-free, educational programming on which both viewers and networks depend.
For more information visit http://www.InnovationsTelevision.com or call Will Spilecki at: (866) 496-4065.