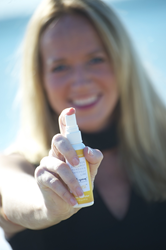 I use the Happiness Mood Stick before big presentations, the Tranquility to rest more peacefully while traveling, the Energy in the morning before a workout, and the Serenity with my morning meditation.
RENO, Nev. (PRWEB) October 04, 2018
The Mood Factory takes an innovative approach to wellness, combining tech and consumer products, launching a new scent line based on how smells impact moods.
The Mood Factory, established in 2004 by Founder and Chief Mood Officer Kathryn Goetzke, is relaunching the company based on exciting new evidence on the impact of scents and multi-sensory engagement, with an incredible advisory board of experts in the space. With her previous product success, including a 35 million retail brand with over 1 million for charities, she is passionate about the new line of consumer products (ranging $10-$30) and the potential to positively impact consumer moods.
Dr. Nadim Shaath, author of Healing Civilizations and expert in essential oils, remarked, "The Happiness blend is a mixture of five refreshing citrus essential oils, namely, lemon, mandarin, bergamot, lime and grapefruit. Increasing research has shown that scents can have a positive impact on moods, and the citrus family is especially known for the uplifting and invigorating qualities."
Research suggests people are out of the present moment approximately 50% of the time, and it is one of the greatest barriers to human happiness and contentment. Yet one of the easiest ways to get present is through sensory engagement. The Mood Factory has infused the Mood-scent Happiness essential oil blend in a number of products, including bath bombs, shower steamers, body butters, scent sticks, body scrubs, massage oils and room and body sprays.
"It is so unhealthy how much time we spend in our minds, worrying about the future or ruminating about the past, over things we have so little control. Yet if we could just learn to get out of our mind and into the present, we are happier," says Goetzke. "I use the Happiness Mood Stick before big presentations, the Tranquility to rest more peacefully while traveling, the Energy in the morning before a workout, and the Serenity with my morning meditation. Learning how to get present is an ongoing challenge for me, and creating fun and easy ways to do so has been a great life hack. Literally, anyone can use it when they need a quick pick-me-up - kids can put one in their backpacks, women can carry one in their purse, and men can have one in their briefcase. When you find your mind wandering and your body tensing - smell and anchor."
Mood-ticks are available from $12, and there are other products including body butters, massage oils, essential oil blends, bath bombs, shower steamers, and a Mood-air essential oil diffuser. The key is to remind yourself, throughout the day, to stop the mind and enjoy the present moment. There are so many ways to do this, and The Mood Factory is excited to be exploring this sensory space.
As part of the Happiness product line, The Mood Factory is donating 10% of profits from the sale of products to Hopeful Minds, a skills-based program for teaching hope to young kids. The program teaches 8-10-year-old children about creating, maintaining and sustaining hope even during the most trying times. Recent research out of Ulster University in Northern Ireland is showing positive results for reducing anxiety and depression in youth, and increasing hope. The program is being used around the world, and is free and available to all at http://www.hopefulminds.org.
About Kathryn Goetzke
Kathryn Goetzke's initial brand, Mood-lites, moved over 9 million units, brought in 35 million dollars for retailers, and raised over 1 million dollars for charities. She is a seasoned marker, with over 25 years in strategic marketing, sales, technology and consumer products for both small and large companies. She has a BA in Psychology, and Masters in International Business with additional coursework on colors, scents, moods, and Happiness.
Along with serving as well as the Chief Mood Officer at The Mood Factory, Kathryn Goetzke is also a global depression advocate and founder of the mission of International Foundation for Research and Education on Depression (iFred), as well as on the advisory boards for FundaMentalSDG, the Global Mental Health Movement, and Y Mental Health. iFred aims to shine a positive light on depression and eliminate the stigma associated with it through prevention, research and education. To help shift society's negative perception of depression, iFred uses positive imagery and branding; the color yellow and a sunflower is their instantly recognizable, international symbol. IFred works on prevention through teaching hope to young kids, via Hopeful Minds (previously Schools for Hope), based on research it is a teachable skill.
About Nadim Shaath, Ph.D.
Nadim A. Shaath, Ph.D. received his B.Sc. degree (Honors) in Chemistry from the University of Alexandria, Egypt in 1967 and his Ph.D. in Organic Chemistry from the University of Minnesota in 1973. He joined the Chemistry Faculty at the State University of New York at Purchase in 1975. In 1979-1980, he served as the Chairman of the Chemistry Department at Suny-Purchase and then joined Felton Worldwide, a flavor, fragrance and sunscreen company, as Executive Vice President and Technical Director. His most recent book, Healing Civilizations, is used by corporations around the world looking to learn more about the incredible properties of essential oils.
About The Mood Factory
The Mission of The Mood Factory is Simple: To Improve Moods. It does that by inspiring individuals how to engage senses to improve well-being. Being present is one of the fastest ways to feel better and lead healthier, more productive fulfilling lives. The Mood Factory is currently launching a 21-Day to Happiness course, and in production of a new line of scent products based on how the sense of smell impacts mood states, including: Energy, Tranquility, Happiness and Serenity.