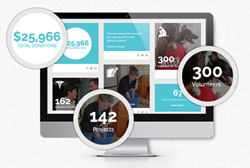 With the new Social Impact Profile we can not only showcase our impact in an authentic way, but also invite our fans and followers to join the conversation and help expand our reach.
Portland, OR (PRWEB) April 16, 2014
Cause marketing apps leader CafeGive Social invites organizations to put the "social" into their "social responsibility" with its newest technology solution: Social Impact Profile. The new app -Social Impact Profile (SIP) - empowers socially responsible businesses to share their charitable giving, volunteerism, and community involvement, and engage fans and consumers in their good works.
The new app offers businesses a way to collect, compile, and share all of their Corporate Social Responsibility in one place, and scale their impact using social media.
Social Impact Profile acts as a living Corporate Social Responsibility (CSR) report that connects seamlessly with commonly used social media networks, such as Facebook and Twitter. SIP users can showcase partnerships and the causes they support in a visually compelling way, including charitable giving and grants, employee volunteerism, and event sponsorship, and invite fans to interact with the app using social media.
"We know that 91% of consumers are likely to switch brands to ones that support social or environmental causes, and companies need a way to actively engage customers and communities in the great work that they do," said Sandra Morris, CEO and Co-Founder of CafeGive Social. "The new Social Impact Profile offers socially responsible businesses an easy way to set themselves apart from the competition and connect more meaningfully with their customers and fans."
Some of the capabilities of the new Social Impact Profile platform include:

"At-a-glance" reporting of Corporate Social Responsibility initiatives as an interactive map and infographic, including volunteer hours, environmental impact initiatives, cause championship, and donations.
Full integration with social media including company page Facebook albums, giving customers, partners, clients, and fans more ways to share and show their support for a company's good works and to get involved.
Dynamic, branded report of a company's impact, that can connect with custom hashtags for increased visibility and reach.
Launched on last week, the Social Impact Profile demonstrates CafeGive Social's commitment to cause-driven marketing and to helping organizations accelerate their social impact through innovative social media.
To celebrate the launch of the new app as well as its recent certification as a B Corporation and Benefit Company, CafeGive Social is using the SIP platform to share its own community giving story.
SIP users have the support of the CafeGive Social cause marketing team, including resources for cause campaign management, social media best practices, and tips for branding their company's Profile and messaging. The platform also provides businesses and marketers with the ability to track the performance of their Profile, and enhance it using real-time metrics.
"It's one thing to say that we're a socially responsible business, and another to show it. With the new Social Impact Profile we can not only show our impact in an authentic way, but also invite our fans and followers to join the conversation and help expand our reach," said Sandra.
The new Social Impact Profile is the next generation of CafeGive Social's Social Impact Map app, which allowed companies to share their charitable activities on their Facebook page or website. The new SIP integrates with more social media channels, and provides greater functionality along with more opportunities for branding and consumer engagement.
About CafeGive Social:
CafeGive Social is the only company that combines social media marketing with meaningful, action-oriented cause marketing applications and solutions. Our products and services have helped companies, agencies and nonprofits of all sizes connect with customers to build brand, enhance reputation, and raise awareness and effect social change. Headquartered in Portland, Oregon, CafeGive Social is a privately held company. For more information, visit http://www.cafegive.com.