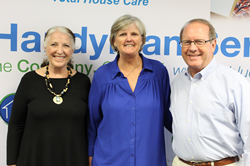 All three of us have gone through the process of running a busy household and trying to maintain a home while working fulltime. It can be so difficult to find the time to do those every-day house projects. - Roxanne Batson
BIRMINGHAM, Ala. (PRWEB) August 19, 2021
Three friends are pleased to announce the launch of their new TruBlue Total House Care franchise in Birmingham. Owned by Mary Anne Feldman, Rick Batson and Roxanne Batson, this new business serves Birmingham, Homewood, Mountain Brook, Vestavia, Hoover and the surrounding areas.
"All three of us have gone through the process of running a busy household and trying to maintain a home while working fulltime. It can be so difficult to find the time to do those every-day house projects while trying to enjoy spending time with your family and doing the things you love," Roxanne said. "With TruBlue, you can get those weekends back without sacrificing the important maintenance on your home."
TruBlue of Birmingham offers handyman services, real estate cleaning and repairs, organizational services, security system installation and maintenance, commercial property maintenance, preventative home safety services and seasonal work. In addition to TruBlue's regular one-time services, the company also offers House Care Plus, a monthly or quarterly home maintenance program. While TruBlue is a great one-call-does-it-all solution for busy families, it's also a great option for seniors looking to age in place.
"We are especially passionate about working with seniors. We have each been faced with the challenges of helping our aging parents stay in their homes and we understand they need help to maintain their home in order to prevent safety issues and deterioration that affects the value. The simplest things become difficult, especially when mobility is affected. Many of our clients are adult children who just want to make sure Mom and Dad have help when they need it," Rick said.
Roxanne and Mary Anne are long-time friends and this isn't their first rodeo owning a business together – they sold educational technology to schools for more than a decade. Before that, Roxanne worked as a financial consultant for Merrill Lynch after 6 years with Southern Living Magazine, where she worked as a Cooking School program coordinator. Mary Anne, who has a background as a teacher and a coach, owned First Light Home Care until she sold the business about two years ago. Rick retired a few years ago as the President of TurnerBatson Architects, a third generation architectural firm. After a few years of retirement, the team decided they weren't ready to stay retired.
"We were talking about getting back into business together when I happened across an ad about TruBlue in another city and I realized that's exactly what we should do. TruBlue enables us to use our complementary experiences to serve clients in the best way possible. Having someone you trust you can call to help with the maintenance on your home is something we all need and we're looking forward to being that resource," Mary Anne said.
TruBlue of Birmingham is licensed, bonded and insured. To learn more about TruBlue of Birmingham, call 205-839-3818, email BirminghamOffice@TruBlueHouseCare.com or visit http://www.TruBlueTotalHouseCare.com/Birmingham.