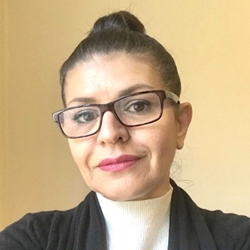 We have very ambitious initiatives underway, especially in the area of AI, and Shiva is well-suited to lead this effort. She has that rare blend of not only an amazing track record as a software development engineer, but proven people and management skills. – Nima Hakimi, Convoso CEO & Co-Founder
LOS ANGELES (PRWEB) September 16, 2021
Convoso, SaaS innovator in outbound call center solutions, welcomes Shiva Mirzadeh as the new Vice President of Engineering. Shiva will lead the critical development of innovations in Convoso's dialer platform and features, with a particular focus on further advancing the development of the company's AI-based solutions. The former leader of engineering at Symantec Corporation, and more recently Signal Sciences will also build out her team to help the company scale in support of aggressive growth goals.
Shiva is an award-winning software technology leader, and a patent-holder for her innovations. She brings extensive experience leading high performing teams, growing globally distributed technical organizations, and developing secure, scalable resilient applications through all aspects of the software development lifecycle.
"Our entire leadership team is excited about the level of experience and capabilities Shiva brings to Convoso," said Nima Hakimi, CEO & Co-Founder of Convoso. "We have some very ambitious initiatives underway, especially in the area of AI, and Shiva is well-suited to lead this effort. She has that rare blend of not only an amazing track record as a software development engineer, but proven people and management skills. We have a dedicated team of engineers, and she will further build out the talent to meet our goals."
Prior to Convoso, Shiva served as Director of Engineering & Operations at Symantec Corporation, where she led a globally distributed organization of 100+ technical managers, software and data engineers, data and mobile engineers, and architects, defining the next generation of Norton Online Platform. While serving as VP of Engineering at Signal Sciences, Shiva led all aspects of the large scale Web Application Firewall (WAF) development, and developed an organizational Change Management Plan. She also served as an Advisor Council Member for Gerson Lehrman Group (GLG).
As Convoso's new VP of Engineering, Shiva Mirzadeh said, "I'm looking forward to collaborating with the leadership team to align our technology development with the company's growth and innovation goals. My experience in leading high performance teams will help us deliver highly scalable and resilient systems focused on customer satisfaction and information security best practice while minimizing costs."
About Convoso
Convoso is the industry leader of omnichannel contact center software for sales and lead generation teams. Since 2006, Convoso has continuously innovated its cloud based dialer solution to help outbound call centers drive profitability while supporting compliance with TCPA and other regulations.