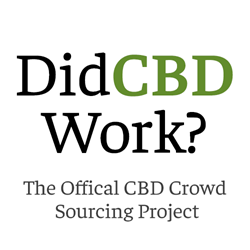 ...depending on what you read, CBD is either a miracle cure or the latest online snake oil.
MADISON, Wis. (PRWEB) July 10, 2019
DidCBDWork.com is the first website aimed at crowdsourcing an important question that's been sweeping the world for the past 18 months, does CBD actually work? It seems like depending on what you read, CBD is either a miracle cure or the latest online snake oil.
DidCBDWork.com instead aims to get testimonials of real CBD users, who are attempting to ease real conditions, to rate how effective it was for their situation. The site has an ambitious goal of gathering over 1 million real life field reports before the end of 2020.
The site targets individual conditions, each with a dedicated page. Here users can find out what the latest medical research states about the effectiveness of cannabidiol (CBD) with their condition or illness and compare that with the benefits claimed by marketers of these products.
If they've already used CBD, DidCBDWork.com then asks users to compare their experience with the findings. Eventually, they will have a database of scores and experiences for each individual condition. This will help make some assessment as to the effectiveness of CBD for each one. These will be made public for transparency and helpfulness.
They've collected over 400 scientific articles on CBD, which makes finding relevant information a breeze. DidCBDWork.com encourages anyone with good, bad, or indifferent experiences with CBD to provide their account and help others on their journey.
To help build this heap of experiences, DidCBDWork.com will be rewarding the best user reviews each month, offering free CBD to users who liked it and Amazon vouchers to those who didn't.
They're also currently on the lookout for partnerships with bloggers or influencers, who may be suffering with a long-term condition, and may, or may not have not tried CBD yet. They're hoping these partnerships can help them connect with online communities of people suffering with individual conditions and canvas their experiences with CBD so far.
DidCBDWork.com and its users are here to find truth and CBD's actual effectiveness. Will it have the potential to change millions of lives, or will it just prove to be another supplement fashion trend?'
For more information or press inquiries about DidCBDWork.com, please contact 608-721-1111 or Team(at)DidCBDWork(dot)com