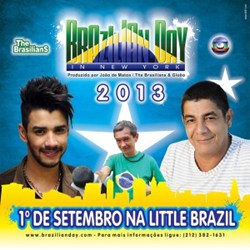 Brazilian Day is a much loved New York event that draws people from around the world to New York's Little Brazil.
New York, NY (PRWEB) August 12, 2013
Brazilian Day is a much loved New York event that draws people from around the world to New York's Little Brazil. More than 1.5 million people come to enjoy the food, music and fun of this exciting celebration. The event started small, but has grown so popular over the years that it is now broadcast on Brazilian television.
It is the largest Brazilian celebration in the United States and is a way to celebrate Brazilian Independence and Brazilian culture. The Manhattan Hotel – A Times Square Hotel welcomes these visitors with impressive special offers such as the Summer Savings offer which allows guests to save up to 50%. View offer details >
Brazilian Day
When: September 1, 2013
Where: Little Brazil, New York City
Call: 212-398-6464
What began in 1984 as a way to honor the Brazilian Independence Day has become so popular that people come from as away as Japan and Africa to join in the festivities. New York's Brazilian Day is even well-known in Brazil where many watch the festivities on television. For 29 years the event organizers have worked to bring together the best in Brazilian culture including food, music, art and more.
Encompassing 25 city blocks with Little Brazil in the center, Brazilian Day allows attendees to experience sights, tastes and sounds that are authentically Brazilian in every way. Revelers stroll through the festival while the sounds of samba drums fill the air.
One highlight of the event is the opportunity to see Brazilian celebrities who come to entertain the crowd. This year the top performers include Zeca Pagodinho and Gusttavo Lima. Children's activities are also available so that party-goers of all ages are sure to have a good time as they learn about and celebrate the culture of Brazil.
Attendees can feast on authentic Brazilian cuisine, meet and chat with the artisans who create beautiful artwork and crafts and learn about the culture through various displays and exhibitions. Every part of Brazilian Day is a true representation of the Brazilian culture, and is eagerly anticipated by Brazilians living in the United States as well as by others who enjoy the food, music and more.
About The Manhattan Hotel – A Times Square Hotel:
One of the best features of The Manhattan Hotel at Times Square is our incomparable location – literally in the center of everywhere you want to be when you visit New York. The streets around our Times Square Hotel are alive with the boisterous energy New York is famous for, with each step introducing you to your next fascinating encounter.
While our enviable New York Hotel Location tops the list of preferred reasons to stay at The Manhattan Hotel - A Times Square Hotel, we didn't stop there in our efforts to make your New York stay with us as comfortable and convenient as can be.
With an ideal location our guests are just steps from the Broadway Theater District, Empire State Building, and neighborhoods of Greenwich Village and SoHo to Central Park, Rockefeller Center, and Madison Avenue.
Our 659 well-appointed, non-smoking Guest Rooms and Suites are available on 22 floors and offer everything a Business or Leisure Guest will need for a comfortable stay in the City.
Visit The Manhattan – A Times Square Hotel Website.
Looking for the perfect NYC Hotel? Choose The Manhattan - A Times Square Hotel - Check Rates - Make Reservations or call toll free: 800.610.5386.