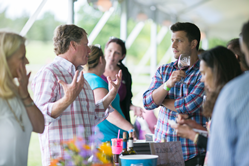 We truly enjoy curating a selection of makers from around the area, state, and world to present them in the unique setting of Long Island Wine Country... it's wonderful to be able to promote this region to wine and food enthusiasts from the Tri-State area and beyond.
NEW YORK (PRWEB) May 28, 2019
New York Wine Events will present its 5th Annual North Fork Crush Wine & Artisanal Food Festival on Saturday, June 22 at RGNY (formerly Martha Clara Vineyards) in Riverhead, New York. The annual tasting event offers guests a choice of two sessions, Afternoon: 12-3pm or Evening: 4-7pm and will feature more than 20 wineries from Long Island and upstate New York, wineries from around the globe, and New York State farm distilleries, plus numerous artisanal food and beverage sampling tables.
Guests will enjoy numerous tasting tables with quality reds, whites, rosés, and sparkling wine from Long Island, the Hudson Valley, France, California, Slovenia, and other New and Old World regions as well as samplings from artisanal food and beverage makers from the East End and points beyond including baked goods, chocolate, coffee, granola, salsas, dips, sauces and oils, tapenades and spreads, sparkling waters, and more. Light fare on the buffets will include locally sourced provisions including cheeses, charcuterie, crudités, breads, and crackers, Festival attendees can keep their complimentary custom wine tasting glass as a souvenir from their day Long Island Wine Country and chat with the winemakers and artisan food makers, learning about all the offerings directly from the source.
"We're excited to present North Fork Crush at the recently launched RGNY since they acquired the stunning Martha Clara Vineyards property last year. The spacious site allows us to showcase wine, food and lifestyle companies both indoors and under tents, all in a beautiful winery setting," notes Sam Kimball, Founder, New York Wine Events. "We truly enjoy curating a selection of makers from around the area, state, and world to present them in the unique setting of Long Island Wine Country. Being in such close proximity to New York City and its suburbs, it's wonderful to be able to promote this region to wine and food enthusiasts from the Tri-State area and beyond."
Wine tasting tables located throughout the spacious barn and tent at North Fork Crush will include a diverse selection of wines from Long Island's top winemakers including Bridge Lane Wines, Brooklyn Crush Wines, Brooklyn Oenology, Harbes Vineyards, Jamesport Vineyards, The Lenz Winery, Maiden + Liberty, Pindar Vineyards, RGNY, Saltbird Cellars, Sannino Vineyard, Sherwood House Vineyards, Sparkling Pointe, and Suhru Wines, plus wines, ciders, and spirits from 90+ cellars (global selections), Angry Orchard (Hudson Valley, NY), Brotherhood Winery (Hudson Valley, NY), KAS Spirits (Hudson Valley, NY), Ketel One (The Netherlands ), Lakeland Winery (Finger Lakes, NY), Laureate Imports (Slovenia), Olde York Farm Distillery & Cooperage (Columbia County, NY), Pallini Limoncello (Italy), Springbrook Hollow Farm Distillery (Adirondack Foothills), Taconic Distillery (Hudson Valley, NY), Twin Stills (North Fork), and Victorianbourg Wine Estate (Niagara Escarpment).
Artisanal purveyors and beverage makers, large and small include Bennett's Deli & Sandwich Co., Brew Dr. Kombucha, BRWD Refreshing Energy Drink™, Drunken Fruit, Essentia Water, Finn's Smoked Fish Dip, Granola Lab, KeVita, The Long Drink, MadeFresh Organic, Mattitaco, North Fork Chocolate, Organic Olive Juice Co., Salsa Di Parma, spindrift, Subtle Tea, Topo Chico Sparkling Water, Truly Hard Seltzer, Vines & Branches, White Claw Hard Seltzer, and Yeh Chips. Lifestyle sponsors and vendors include Fragrances of Wine, HelloFresh, and Wine Me?
For those guests who wish to purchase their favorite products to enjoy at home, participating North Fork/East End and New York State farm wineries and distilleries will have selections on hand for guests to purchase by the bottle or case and numerous artisanal food makers will have full-sized products available for sale as well.
North Fork Crush is among the numerous tastings New York Wine Events presents throughout the year in the New York metro area, along with its Jazz in the Vines summer concert series at Jamesport Vineyards, and its recently added Day Trip to Wine Country, an April to November series featuring Long Island and Hudson Valley winery tours on Saturday sand Sundays.
Tickets for North Fork Crush are on sale now at priced at $46-$65 (depending upon time of purchase). Check the New York Wine Events web site for details about limited time discounts, 15% savings for groups of 10 or more, hotel discounts, and New York Wine Events' Taste VIP program membership benefits including complimentary event tickets and discounts. The event will take place rain or shine, indoors and under tents to shield guests from the elements. Advance ticket purchase is highly recommended. New York Wine Event's popular tastings have had sold out crowds over the last decade, and the North Fork Crush is expected to do the same.
For more details or to purchase tickets to the North Fork Crush Wine & Artisanal Food Festival, visit NewYorkWineEvents.com.
About New York Wine Events
New York Wine Events is committed to bringing together New York Metropolitan wine and food lovers, whether it's at one of our wine fests, on a day trip to wine country, while browsing other New York area food and drink events, or reading our in-depth articles online about the area food and drink scene. The company's goal is to provide a wine tasting experience that allows guests to sample as many diverse wines as possible while enjoying a festive atmosphere and the company of other wine lovers. Visit NewYorkWineEvents.com.