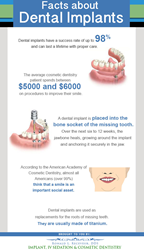 With the All on Four, I can treat many of those patients in a 90-day period with no extensive bone grafting, all in one procedure – only one surgery – all in one day.
New Albany, IN (PRWEB) May 28, 2014
New Albany dentist Dr. Ronald Receveur is marking the fourth anniversary of his training in the All on Four dental implants procedure next month.
This revolutionary procedure allows patients who have no teeth in either the upper or lower jaw, or both, to receive a full set of teeth using only four dental implants without bone grafting – even if they have significant jaw bone density loss.
"The advantage of the procedure for patients is that before this was developed, many patients had to have extensive bone grafting (surgery), wait six months or a year, then have implants placed," Dr. Receveur said. "Their treatment plans to get rid of a denture and have a nice permanent prosthesis would often take 12 to 24 months or more.
"With the All on Four, I can treat many of those patients in a 90-day period with no extensive bone grafting, all in one procedure – only one surgery – all in one day."
Dr. Receveur, who has been a Southern Indiana and Louisville dentist since 1981, said he continues to see patients who other dentists tell they don't have enough bone for implants.
"I can treat them with dental implants and the all on four approach," he said.
Dr. Receveur trained in Lisbon, Portugal, with the procedure's inventor, Dr. Paulo Malo, in June 2010.
"I would see All on Four surgeries all day long, literally walking from treatment room to treatment room," he said "I saw more cases in a day there than I would see in months anywhere else."
Dr. Receveur said Dr. Malo had 60 dentists on staff and more than 600 employees.
"Patients from all over the world would fly in to see him," Dr. Receveur said. "The young dental school graduates from Portugal felt privileged to work for free for Dr. Malo, just to be able to that on their resume. They literally had to go through an application process, and a small percentage got accepted. It was just an amazing place."
Extensive training in dental implants is nothing new for Dr. Receveur. He was born with a partial cleft palate that left him with a missing front tooth. As a child he "wore an awful removable partial." As a teenager, he received a permanent bridge, but as so many dentists did at the time, his dentist destroyed one of his healthy, natural teeth.
These experiences helped cement his drive to find better solutions for patients. First he studied under Dr. Gus Livaditis, one of the pioneers of acid etching and bonding and creator of a technique known as the Maryland Bridge, which does not destroy adjoining teeth.
Next he learned about dental implants through Nobel BioCare, the largest manufacturer of implants in the country, and Dr. Jack Hahn, a Cincinnati expert in implant systems and prosthetics. He then received an externship with the world-renowned Midwest Implant Institute.
After that he trained with Dr. Carl Misch, the world's foremost implant dentist, and Dr. James Butler, an expert on mini implants.
Overall, Dr. Receveur has attended more than 5,000 hours of postgraduate training, traveling as far as Portugal to study with the best dentists in the world. He has earned numerous advanced certifications in Sedation, Implant, Comprehensive, Restorative and Aesthetic dentistry, providing the most current dental techniques to his Louisville and New Albany dental patients.
Dr. Receveur graduated from Indiana University Southeast with honors in chemistry, before he earned his doctorate in Dental Surgery from the Indiana University School of Dentistry. Dr. Receveur has been practicing in Louisville and Southern Indiana and Louisville since 1981.
Dr. Ronald Receveur, who practices in New Albany, Ind., across the Ohio River from Louisville, Ky., offers general and cosmetic dental work, such as teeth cleanings, X-rays, fillings, extractions, root canals, crowns, teeth whitening and veneers.
Dr. Receveur also is an expert in advanced implant dentistry like the aforementioned All on Four dental implants, Louisville All on Six dental implants, mini dental implants, dental implants in one day, dental implants in one hour, bone grafting and sinus lifts, all with IV sedation dentistry.
Dr. Receveur, a New Albany native, offers an unprecedented 10-year warranty on dental implants and a five-year warranty on all cosmetic and prosthetic work.
Those in or around Louisville find a cosmetic dentist at NewAlbanyImplants.com.