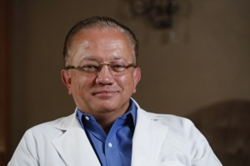 "Oral health is an often-overlooked aspect in the life of a person with dementia," Dr. Receveur said. "Painful teeth, gums or dentures can exasperate the challenges those patients are already facing, and they may not be able to articulate the problem."
New Albany (PRWEB) May 15, 2014
New Albany dentist Dr. Ronald Receveur is urging family members and caregivers of persons with dementia not to ignore their dental needs.
Those who struggle with dementia face multiple challenges from basic teeth cleaning to dental checkups to maintaining dentures.
"Oral health is an often-overlooked aspect in the life of a person with dementia," Dr. Receveur said. "Painful teeth, gums or dentures can exasperate the challenges those patients are already facing, and they may not be able to articulate the problem.
Dr. Receveur, a Louisville family cosmetic dentist, said those with dementia have different needs at different stages.
In early dementia, the patient will usually be able to brush his or her own teeth, though they may need reminding to do so. The dentist also may recommend a fluoride varnish to help protect teeth as forgetting to brush becomes more frequent.
As patients progress into later stages, the patient may forget how to brush his or her teeth or may lose interest in doing so. Caregivers may need to take over doing it for them. Dr. Receveur said those with dementia also may need a high-fluoride mouthwash as long as they won't swallow it.
Persons with dementia may have oral health issues due to medications. Sedatives, antidepressants and antipsychotics can reduce saliva production. Without enough saliva, bacteria can spread and increase tooth decay and gum disease.
Lack of saliva also may cause discomfort and looseness of dentures. Loose dentures can damage the gums if left untreated. This also may cause the person with dementia to eat less, stop wearing his or her dentures and act aggressively.
Dentures need to be replaced when they no longer fit. The person with dementia should be reminded to wear his or her dentures and even helped with putting them in. Should the patient lose his or her dentures, they should be replaced if possible to help the person with dementia keep his or her appearance and self-esteem.
Because of these issues, Dr. Receveur encourages caregivers and family members to make sure that those with dementia see their dentist regularly. However, this can be a difficult situation for some persons with dementia.
Those who have had regular dental treatment throughout their lives often remember what they are supposed to do at the dentist. For others going to the dentist can increase their confusion, making treatment difficult or impossible.
In the early stages, the dentist usually is able to plan treatments aimed at preventing gum disease or decay, with cosmetic dental procedures and dental implant costs considered if the person with dementia still can care for his or her own teeth.
In the middle stages of dementia, the patient may require conscious or IV sedation, which Dr. Receveur offers, to see the dentist.
In the final stages, the dentist usually sees the patient for discomfort and emergency situations.
Dr. Receveur, who practices in New Albany, Ind., across the Ohio River from Louisville, Ky., can provide general and cosmetic dental work such as teeth cleanings, fillings, root canals, extractions, crowns, teeth whitening and veneers.
He also can do more advanced implant dentistry like dental implants in one day, dental implants in one hour, All on Four dental implants, All on Six dental implants, bone grafting and sinus lifts, all with IV sedation dentistry.
After graduating from Indiana University Southeast in his native New Albany, Ind., with honors in chemistry, Dr. Receveur earned his doctorate in Dental Surgery from the Indiana University School of Dentistry.
Dr. Receveur has served patients in Southern Indiana and Louisville since 1981.
Dr. Receveur has attended numerous continuing education courses. Dr. Receveur has completed more than 5,000 hours of postgraduate training and earned advanced certifications in implant, comprehensive, sedation, restorative and aesthetic dentistry, so he can provide the latest dentistry to his Louisville and New Albany dental patients.
Those looking for the Louisville cost of mini dental implants should go to NewAlbanyImplants.com for more information.