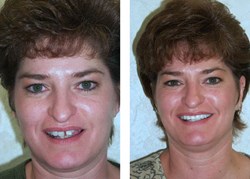 'People who are having trouble with their teeth, can't eat what they want or who are embarrassed by their smile will find us when they search online,' Dr. Receveur said. 'We're here to help them in any way we can.'
New Albany, IN (PRWEB) February 20, 2014
People looking for New Albany cosmetic dental work or Louisville cosmetic dentistry services will have a new place online to find the information they seek.
Dr. Ronald Receveur will be unveiling a new website for his practice later this month. The redone site, at NewAlbanyImplants.com, will include both videos and text pages of patient testimonials, explanation of services, warranty and financing information, and Dr. Receveur's blog.
"People who are having trouble with their teeth, can't eat what they want or who are embarrassed by their smile will find us when they search online," he said. "We're here to help them in any way we can."
Dr. Receveur was an early adopter of Internet marketing and was one of the first dentists in the Louisville, Ky./Southern Indiana area to have a website for his practice.
Dr. Receveur, a family dentist who practices across the Ohio River from Louisville in the Southern Indiana town of New Albany, services include all on four dental implants, all on six dental implants, dental mini implants, full mouth dental implants, teeth in a day, teeth in an hour, IV sedation, and teeth whitening and other Aesthetic dentistry.
Dr. Receveur was born and raised in New Albany, Ind. He received his degree with honors in chemistry from Indiana University Southeast. He earned his doctorate in Dental Surgery from the Indiana University School of Dentistry, and has been providing dentistry to Southern Indiana and Greater Louisville residents since 1981.
Dr. Receveur continues to participate in continuing education, accruing more than 5,000 hours of postgraduate training. He has completed numerous advanced certifications in Comprehensive Restorative, Implant, Sedation and Aesthetic Dentistry, allowing him to provide state-of-the-art dentistry to his patients.
To learn more about Dr. Receveur and to see his website, go to NewAlbanyImplants.com.