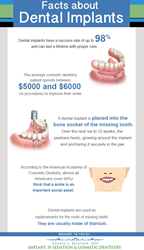 'It is always best to be an informed consumer,' Dr. Receveur said. 'We welcome any questions you have and will answer them or explain anything to help you with your decision to go forward with dental implants.'
New Albany, IN (PRWEB) February 25, 2014
Dentist and author Ronald Receveur is offering simple tips to finding the right cosmetic dentist.
Dr. Receveur, who practices across the Ohio River from Louisville in the Southern Indiana town of New Albany, said most people are looking for a cosmetic dentist because they are losing teeth, in danger of losing teeth or suffering from painful dentures.
"The task of finding the perfect implant dentist may seem daunting, but it does not have to be," Dr. Receveur said. "Simply follow these tips and you will be well-prepared and confident in your choice in implant dentistry."
Those who are scared of the dentist or dental work should consider a dentist who offers intravenous (IV) sedation.
"IV sedation can make it possible for you to sleep through your entire procedure and remember nothing," he said.
Dr. Receveur, the only IV sedation-certified general dentist in the New Albany and Southern Indiana area, said the dentist will you choose the level of sedation that will help you feel the most comfortable and relaxed.
He also recommended potential patients review a dentist's website with a critical eye. This includes getting as much information as possible; reading testimonials, which by law must represent a full sampling of all received; and watching video testimonials to see if they seem natural or scripted.
"The more prepared you are when you call for a consultation, the more ready you will be when we begin treatment," he said. "It is always best to be an informed consumer. We welcome any questions you have and will answer them or explain anything to help you with your decision to go forward with dental implants."
Dr. Receveur encouraged prospective patients who have delayed dental care to look for a dentist who will not judge them or lecture them.
"We believe your dentist should accept you as you are and work with you to offer solutions that you can live with," he said.
Once the dentist recommends a procedure, whether it is teeth whitening or full mouth reconstruction, Dr. Receveur encourages patients to research the procedure.
One way of doing so is to ask the dentist questions:
● Will this treatment be painful?
● How will the doctor treat the pain?
● What is involved?
"Don't be afraid to ask those questions," Dr. Receveur said. "Any dentist worth his or her salt will answer honestly and without judgement."
Dr. Receveur, one of Louisville's best cosmetic dentists, provides teeth cleanings, fillings, crowns, extractions and root canals. He also can do more advanced dental care services like all on four dental implants, all on six dental implants, mini dental implants, full mouth dental implants, teeth in a day, teeth in an hour, bone grafting and sinus lifts.
A native of New Albany, Ind., Dr. Receveur received his bachelor's degree with honors in chemistry from Indiana University Southeast. Since earning his doctorate in Dental Surgery from the Indiana University School of Dentistry. Dr. Receveur has practiced in Southern Indiana and Greater Louisville since 1981.
Dr. Receveur participates in extensive continuing education, accruing more than 5,000 hours of postgraduate training. He has completed numerous advanced certifications in Comprehensive Restorative, Implant, Sedation and Aesthetic Dentistry, so he can provide state-of-the-art dentistry to his patients.
To learn more about Dr. Receveur, go to NewAlbanyImplants.com.