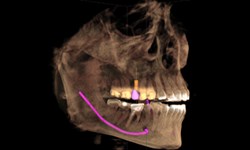 You can come in to my office, talk to me, have an exam, have a CAT scan, and within an hour or hour and a half know exactly what's available to you.
New Albany, IN (PRWEB) February 19, 2014
Dr. Ronald Receveur, one of Louisville's best cosmetic dentists, can look not only at patient's teeth above the gum line, but thanks to a miraculous new piece of equipment, he can see all the way to the bone.
Dr. Receveur has installed the Sirona Galileos 3D Dental Imaging System, which offers computerized axial tomography (CAT) scans of the jaw and mouth. With CAT scans, also called computed tomography (CT) scans, computers combine hundreds of X-ray images to generate high-resolution, three-dimensional views of facial bones, including teeth and jaw bone.
"With a Galileos 3D CAT Scan right in our office, we can explain your options, right on the spot, to solve your problems with missing or failing teeth, denture problems and failing dentistry," Dr. Receveur said. "No need to run to a hospital or imaging center to get your scan, have to deal with that, then bring the scans back to us sometime later. You can come in to my office, talk to me, have an exam, have a CAT scan, and within an hour or hour and a half know exactly what's available to you."
Dr. Receveur's dental implant clinic in New Albany, across the Ohio River from Louisville, Ky., is one of only about 500 offices in the country, and the only practice in Southern Indiana, using a Galileos 3D CAT scanner to diagnose and treat our patients with three-dimensional head and neck imaging.
With the Galileos, Dr. Receveur's patients have the precision and accuracy of CAT scan radiography without leaving his office. The 3D images show bone structure, bone density, tissues and nerves.
"No matter if its dental implants, extractions or cosmetic dentistry, we can do it all right here," he said.
Unlike CAT scans at hospitals and imaging centers, which require patients to lie down, patients sit in an open-air chair for the Galileos 3D CAT Scan for about 20 seconds.
"Having you sit up while taking the film shows us your natural posture and jaw position, which is important for airway and sleep apnea evaluation," Dr. Receveur said.
Dr. Receveur said there are additional benefits of the new machine:
1. Improved Diagnostic Ability: Three-dimensional images finds 25 percent more tumors, abscessed teeth and abnormalities than traditional two-dimensional dental x-rays.
2. Reduced Radiation: The Galileos CAT Scan has 10 pert of the radiation of a CAT scan at a hospital.
3. Decreased Cost: The Galileos CAT Scan costs approximately 50 percent less than a medical CAT scan.
The Galileos will be a huge success with Louisville and New Albany all on 4 dental implants patients, all on 6 dental implants patients, teeth in a day patients and teeth in an hour patients, Dr. Receveur said.
Some of the main ways in which Galileos CT scans are used in dentistry:
● Determine the quality of the jawbone where an implant will be placed.
● See virtual placement of implants using advanced software.
● Observe where nerves are located.
● Diagnose tumors and diseases in the early stages.
● Measure the density of the jawbone where an implant will be placed.
● Find the most effective placement for implants, including the angle of best fit.
● Plan a complete surgical procedure in advance.
● Accurately decide on the appropriate size and type of implants.
● View the exact orientation and position of each tooth.
● See impacted teeth.
Dr. Receveur was born and raised in New Albany, Ind. He received his degree with honors in chemistry from Indiana University Southeast. He earned his doctorate in Dental Surgery from the Indiana University School of Dentistry, and has been providing dentistry to Southern Indiana and Greater Louisville residents since 1981.
Dr. Receveur continues to participate in continuing education, accruing more than 5,000 hours of postgraduate training. He has completed numerous advanced certifications in Comprehensive Restorative, Implant, Sedation and Aesthetic Dentistry, allowing him to provide state-of-the-art dentistry to his patients.
To learn more about Dr. Receveur and the Galileos 3D Dental Imaging System, go to NewAlbanyImplants.com.