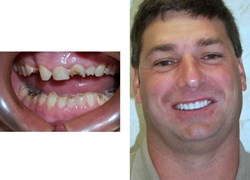 New Albany, IN (PRWEB) February 18, 2014
Dr. Ronald Receveur, a New Albany cosmetic dentist, has added an in-house laboratory and lab technician to his dental implant clinic in the Southern Indiana town of New Albany, across the Ohio River from Louisville, Ky.
The 1,200-square foot lab opened in January 2014.
Advantages of an on-site laboratory technician include:
● Denture relining can be done within a few hours.
● Broken teeth can be added to partials within hours.
● The dentist and technician can craft a patient's smile and make any minor changes while the patient sits in the chair.
"With this new lab, we will able to serve our patients better and faster," he said.
Thanks to the in-house lab, Dr. Receveur can guarantee fit, cosmetics and comfort for dentures – including those that make patients look as though they've had a facelift.
Dr. Receveur's family dentist office also includes the only Galileos 3D CAT Scan imaging in Southern Indiana and a second surgical suite.
Dr. Receveur's smile dental care services include all on four dental implants, all on six dental implants, dental mini implants, full mouth dental implants, teeth in a day, teeth in an hour, IV sedation, and teeth whitening and other esthetic dentistry.
Dr. Receveur was born and raised in New Albany. He majored in chemistry at Indiana University Southeast, where he graduated with honors. He earned his doctorate in Dental Surgery from the Indiana University School of Dentistry, and has been serving the Southern Indiana and Greater Louisville communities since 1981.
Dr. Receveur participates in extensive continuing education, accumulating more than 5,000 hours of postgraduate training. He has completed advanced certifications in Comprehensive Restorative, Implant, Sedation and Aesthetic Dentistry, which allow him to provide state-of-the-art dentistry to his New Albany and Louisville cosmetic dental surgery patients.
To learn more about Dr. Receveur, dental implants and his practice, go to NewAlbanyImplants.com.