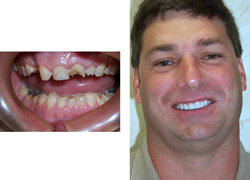 New Albany, IN (PRWEB) February 27, 2014
For the nearly one in six Americans who will need emergency dental care, Dr. Ronald Receveur is offering emergency dental care advice.
Dr. Receveur practices in the Southern Indiana town of New Albany, across the Ohio River from Louisville, Ky., and he is one of the best dentists in Louisville.
Dr. Receveur said patients often have dental emergencies from being in a fight or accident, or because of contact sports. Rarely, patients will develop sudden and excruciating tooth pain.
No matter what the situation, patients should remain calm, he said.
For traumatic injuries, patients should rinse their mouth with a salt-water solution. They should also stop any bleeding by applying pressure to the injured area. A cold compress can control pain and reduce swelling.
"You are more than likely going to bleed from your mouth once you go through an emergency dental situation," Dr. Receveur said. "You may end up swallowing a lot of blood, which can cause further pain throughout your body. You also may lose a lot of blood, which could cause you to pass out."
For extreme bleeding that won't stop, large cuts possibly requiring stitches or intense, unbearable pain, Dr. Receveur urges his patients to contact him and visit their local hospital emergency room.
Some patients go to the hospital emergency room for any urgent oral problem, but this can be expensive and there may not be a qualified dentist immediately available. Dr. Receveur recommends going to a dentist's office for an emergency related to oral care if you can..
For instance, a cracked tooth can become infected if it isn't corrected as soon as possible. In some cases a chipped tooth can be re-bonded.
If patients suffer a dislodged crown, they should contact their dentist to make an appointment as quickly as possible, Dr. Receveur said. Until their appointment, patients should slip the crown back in place and secure it with toothpaste or denture adhesive, but never any type of glue.
"Patients bring about some dental emergencies by delaying dental care for months or even years after a traumatic event until it finally becomes too painful to bear," Dr. Receveur said. "It is very important to schedule an appointment as soon as possible."
In Louisville cheap cosmetic dentistry can be hard to find, so Dr. Receveur encouraged patients to do research to find the best cosmetic dentist.
While some dentists are willing to pull a damaged tooth cheaply, Dr. Receveur is more interested in saving people's teeth.
Dr. Receveur provides numerous cosmetic dental procedures, including all on four dental implants, all on six dental implants, dental mini implants, full mouth dental implants, teeth in a day, teeth in an hour, IV sedation, and teeth whitening and other aesthetic dentistry.
Dr. Receveur is New Albany, Ind., native. He received his bachelor's degree with honors in chemistry from Indiana University Southeast, then earned his doctorate in Dental Surgery from the Indiana University School of Dentistry. Dr. Receveur has practiced in Southern Indiana and Greater Louisville since 1981.
Dr. Receveur has accumulated more than 5,000 hours of postgraduate training. He has completed advanced certifications in Comprehensive Restorative, Implant, Sedation and Aesthetic Dentistry, allowing him to provide the most up-to-date procedures in dentistry to his patients.
To learn more about Dr. Receveur, go to NewAlbanyImplants.com.