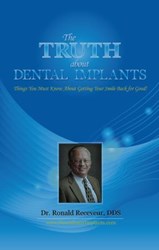 'On my quest to restore my own smile, I discovered the world of dental implants,' Dr. Receveur said. 'I invested countless years of my life and many dollars to learn from some of the best implant experts in the world.'
New Albany, IN (PRWEB) February 13, 2014
A New Albany dentist offers a candid look into his own past and how it led him to become one of the foremost dental implants experts in the Louisville, Ky., area.
Dr. Ronald Receveur's book, "The Truth About Dental Implants: Things You Must Know About Getting Your Smile Back for Good," is set for release later this month.
In it, Dr. Receveur reveals how a personal experience in his youth has led him to a lifetime of helping dental patients.
As Dr. Receveur says in the introduction to the book, "I was born with a congenitally missing tooth, associated with a partial cleft palate. From early on, I had to rely on an awful removable plastic 'flipper' to replace one of my front teeth. It was cumbersome, ineffective, embarrassing and an enormous hurdle to my self-confidence.
"On my quest to restore my own smile, I discovered the world of dental implants. I invested countless years of my life and many dollars to learn from some of the best implant experts in the world.
"Eventually, it became my mission to share what I discovered with my patients. To show them the process that could permanently restore their smile, without the pain or the fear or the guilt that most people usually feel when walking into a dental office."
In the book, Dr. Receveur seeks to clear up the confusing world of dental implants by writing in terms and about concepts that the general public can understand.
"There are so many terms that can confuse and intimidate the average patient," he said. "Bridges, partials, dental implants in one day, All-on-4 dental implants, full mouth dental implants – how are patients supposed to feel comfortable going to the dentist. That is where my book comes in."
The book helps demystify implants from the early stages of diagnosis to completion of the final procedure.
Dr. Receveur said the book also will hold other dentists accountable by telling readers five things that most dentists will never tell their patients. He believes in moving the field of dentistry forward by accepting change and communicating with patients.
The book will be available at Dr. Receveur's website, NewAlbanyImplants.com.
Bucking the establishment has never concerned Dr. Receveur, as he was one of the first dentists to adopt and support the Maryland Bridge. He also is author of numerous other books and webinars to help better educate patients about their dental needs and options.
Dr. Receveur was born and raised in New Albany, Ind. He received his undergraduate degree with honors in chemistry from Indiana University Southeast. He earned his doctorate in Dental Surgery from the Indiana University School of Dentistry, and has been providing cutting-edge, compassionate dentistry to Southern Indiana and Greater Louisville residents since 1981.
Dr. Receveur participates in extensive continuing education, accruing more than 5,000 hours of postgraduate training. He has completed numerous advanced certifications in Comprehensive Restorative, Implant, Sedation and Esthetic Dentistry, so he can provide state-of-the-art dentistry to his patients.
To learn more about Dr. Receveur, dental implants and his practice, go to NewAlbanyImplants.com.