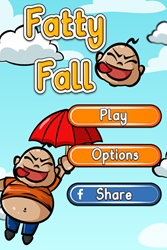 This app looks simple and easy to use, yet it becomes increasingly challenging as users progress through the levels
Boston, MA (PRWEB) April 25, 2014
We are excited to announce the launch of the mobile app, Fatty Fall, available today on iPhone and iPad devices. This new app was created by two self-taught indie developers from Bangkok, Thailand, using the leading engine for mobile game development Corona SDK. Fatty Fall's main appeal lies in the hundreds of increasingly challenging yet addictive levels players will have to go through in order to successfully complete the game.
Fatty Fall centers around Mr. Fatty, a lovable chubby man who has gotten himself into some serious trouble. His friends have been teasing him about his inability to climb up a long tree. Fed up with all their criticism about his weight and determined to prove them wrong, he has managed to reach the top of the tree with great difficulty. Unfortunately, he is unable to get down! The lovable plump man is now stranded several feet in the air. The only way for him to get down is to pluck up his courage and jump. However, in order to safely land on the ground, Mr. Fatty has to avoid a plethora of obstacles and collect as many coins as possible throughout his fall.
Players will have to quickly decide whether to tap the screen left or right to navigate him. However, the combination of strategically placed obstacles and hard to reach coins will render this task even harder to complete. Players will thus have to deploy a combination of concentration, patience and strategic tactics in order to go through a hundred of addictive and challenging levels
"We are extremely passionate about this new app," said Paramin Singhakumar. "Our goal was to create an addictive and fun mobile game to keep users of all ages entertained. We believe we have reached this goal with Fatty Fall. This app looks simple and easy to use, yet it becomes increasingly challenging as users progress through the levels. "
The combination of a lovable main character, upbeat music and increasingly difficult levels are guaranteed to make Fatty Fall an extremely addictive and entertaining game.
Fatty Fall is now available for download on the iTunes Store here.