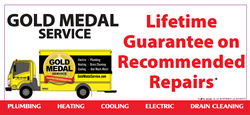 With our new Lifetime Guarantee, our customers can rest easy knowing they're protected if anything goes wrong with something we've repaired
Newark, New Jersey (PRWEB) June 09, 2014
Newark sewer repair experts at Gold Medal Service, an award-winning heating, cooling, plumbing, electrical, drain cleaning, and waterproofing service company in New Jersey, have announced their new Lifetime Guarantee for homeowners who purchase the company's recommended repairs.
The Lifetime Guarantee covers about 90 percent of the parts and labor Gold Medal Service experts provide to homeowners all over New Jersey including Newark, as long as they own the home. If a covered repair service is performed, or a covered part is installed in a home, the warranty guarantees free repairs on the covered service or part as long as the homeowner owns the home. The Lifetime Guarantee does not pass on to another owner.
"We want all our customers to have peace of mind when it comes to spending money on a repair service," said Mike Agugliaro, Gold Medal Service co-founder. "We stand behind all of our services, and we value our customers and treat their homes with respect. I am excited to be able to offer this unique Lifetime Guarantee to give our customers another level of protection."
To be eligible for the warranty, a Gold Medal Service expert must recommend a repair to the homeowner, and the homeowner must accept the recommendation. This could include the installation of such things as plumbing fixtures, circuit boards, light switches, and many other items in Newark and all of New Jersey. In certain cases, the warranty may only cover a part of a unit, such as a blower motor replaced in a furnace. In that case, the Lifetime Guarantee would no longer be valid once the entire unit (e.g. the furnace) needed to be replaced. Consumable parts, such as bulbs, batteries, and filters are also not covered, as these need to be replaced on a regular basis.
Gold Medal Service has started raising consumer awareness about the Lifetime Guarantee on billboards across the state of New Jersey. One of the most frequent calls they get is for drain cleaning Newark and all of New Jersey. They offer coupons on their website to help save homeowners money. People can get the coupons easily by visiting the coupon section of their website.
"I know it's a big decision to repair or replace something in your home," said Agugliaro. "With our new Lifetime Guarantee, our customers can rest easy knowing they're protected if anything goes wrong with something we've repaired."
To learn more about Gold Medal Service people are invited to read their recent press releases relating to such topic as Hackensack drain cleaning or drain cleaning in Camden. Gold Medal Service covers all of New Jersey ad they are always offering some type of coupon in addition the security now being offered by their lifetime guarantee.
For more information about Gold Medal Service, call 800-576-GOLD or visit http://www.goldmedalservice.com.
About Gold Medal Service
New Jersey and Newark sewer repair experts at Gold Medal Service, rated A+ by the Better Business Bureau, was founded in New Jersey in 1994 with just two employees. Their vision was to provide homeowners with a reliable and trustworthy home service company customers could count on to fix just about anything that could go wrong in a home. Since then Gold Medal has grown to include more than 120 employees and technicians solving plumbing, heating, cooling, electric, drain, waterproofing, and sewer issues for homeowners across the state of New Jersey. Gold Medal Service is an Angie's List "Super Service Award" recipient. For more information, call 800-576-GOLD or visit the Gold Medal Service website.