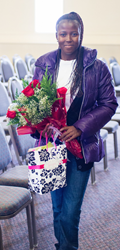 These are some of the very lucky girls who have found their way to safety after unimaginable horror."
Canyonville, Oregon (PRWEB) November 28, 2014
Canyonville Christian Academy in Canyonville, Oregon, has announced it will soon become home to ten girls who escaped from the Boko Haram terrorist kidnappers in Nigeria.
According to Canyonville Christian Academy president, Doug Wead, "These are some of the very lucky girls who have found their way to safety after unimaginable horror." One of the girls arrived on campus two weeks ago, accompanied by a cameraman and producer from NBC television. Wednesday, November 19, she was interviewed on the Canyonville campus by NBC news correspondent, Ann Curry.
In April, 2014, more than 274 teenage girls were kidnapped from a government run boarding school in Chibok, Nigeria. World leaders condemned the kidnappings and a "Bring Back Our Girls" campaign spread around the world involving First Lady, Michelle Obama and former Secretary of State, Hillary Clinton.
CCA's newest international student from Chibok, Nigeria, whose name has been withheld for her privacy, was thrown on a truck with other students and then sped away at high speed. A terrorist pointed a gun to her head and threatened to shoot if she tried to escape. When the terrorist was momentarily distracted she jumped from the truck and rolled into the bush. She laid for hours, feigning death, before beginning her harrowing journey to freedom.
On November 10, Doug Wead, CCA president, met the Chibok girl in Washington, D.C. as she arrived on a flight from Lagos, Nigeria. During the week she met with Senator Rand Paul of Kentucky. The Senator's emotional account of the student's testimony appeared in the Thanksgiving issue of TIME magazine.
The following Monday the Chibok girl was welcomed at the Eugene Orgeon airport with a large banner and cheering students from CCA. Upon arrival in Canyonville she was brought to a welcoming ceremony where fellow students from around the world read letters of welcome. The Chibok girl will share a room with a student from Mexico and a student from Taiwan.
"This was an eventful month for a very brave young lady," said CCA Head of School, Cathy Lovato. "She experienced her first airline flight, her first escalator and the coldest weather she has ever known. And all in good humor."
That Wednesday, when CCA students learned that NBC journalist, Ann Curry was celebrating her birthday while on assignment on their campus, they arranged for a surprise. Ms. Curry was presented with a giant birthday cake with 219 candles.
"This is not because we think you are 219 years old," one of the students read to Ms. Curry, "but rather, this is for the 219 Chibok girls who are still in captivity. They too are part of the story. They think they are alone and forgotten by the world. But they are wrong. Mothers, fathers, brothers, and sisters all over the world are still calling, 'Bring back our girls.'"
CCA estimates that the total cost of providing travel, living expenses, and full scholarships for the girls will exceed $300,000. So far the school has raised $7,000.
In the welcoming ceremony for the Chibok girl CCA president Wead quoted the proverb, "Don't curse the darkness, light a candle." Wead says, "This young lady is a candle to the world, a light of courage and hope in a world of terror and cruelty."
For more information contact:
CCA President, Doug Wead - 541 680 6016
CCA Head of School, Cathy Lovato – 541 680 3167
CCA School offices – 541 839 4401
Resources:
Canyonville Christian Academy
http://www.canyonville.net/
TIME magazine story: Senator Rand Paul meeting with the CCA Chibok girl
https://time.com/3595448/rand-paul-time-for-thanks/
Michelle Obama joins campaign to "Bring back our girls."
http://www.mirror.co.uk/news/world-news/bring-back-girls-michelle-obama-3512496