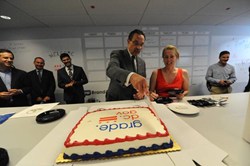 We're honored to be helping our city and fellow citizens harness the power of social media to work together, communicate effectively and keep D.C. thriving."
(PRWEB) August 01, 2013
newBrandAnalytics (nBA), the social intelligence expert for government, retail and hospitality organizations, recently marked the first anniversary of its partnership with the District of Columbia and Mayor Vincent C. Gray's innovative Grade.DC.Gov Program. Since its inception in June 2012, the number of agencies participating in Grade.DC.Gov has tripled, and the majority of agency performance grades have seen an overall improvement.
The Grade.DC.Gov platform is the first online system for rating, analyzing and evaluating government services using citizens' social media feedback. The platform uses newBrandAnalytics' unique social intelligence software to capture feedback that constituents share online about their experiences with District agencies and provide city leadership with insights that can help them improve municipal operations and citizen services.
Launched as a pilot with five agencies last summer, the Mayor's office added five agencies to the program in early October 2012 and an additional five agencies in February 2013, bringing the current participation total to 15. The platform cataloged more than 61,000 total insights from D.C. residents through a combination of web- and mobile-enabled survey responses and reviews posted on social media sites like Facebook, Twitter and Foursquare, which has resulted in changes such as identifying new focus areas for customer service training, improving agencies' website content and features, and providing devices onsite at government facilities so citizens can quickly and easily provide feedback to agency leadership.
Agency grades have shown a general improvement across the board, rising from a C to an A- overall since newBrandAnalytics has been recording data for the city. The District's Department of Motor Vehicles and Department of Transportation, the two agencies receiving the highest volume of citizen feedback, initially started with C- grades and now hold a B+ and A, respectively.
"We're so proud to be celebrating this milestone with Mayor Gray's team and of our role in the incredible success that Grade.DC.Gov has achieved over the past year," said Kristin Muhlner, CEO of newBrandAnalytics. "Most of all, we're honored to be helping our city and fellow citizens harness the power of social media to work together, communicate effectively and keep D.C. thriving."
About newBrandAnalytics
newBrandAnalytics delivers social intelligence that helps companies win – and keep – market share while improving overall operational performance. newBrandAnalytics' unique approach extracts targeted, local insights from volumes of unstructured social media data, pinpointing specific ways your company can meet and exceed customer expectations to create lifelong brand evangelists. The company serves clients across food and beverage, hospitality, retail, and government industries, including Five Guys, Hyatt, Hersha, Dick's Sporting Goods, Ruby Tuesday, Darden, the District of Columbia and many more. To learn more, please visit http://www.newbrandanalytics.com or @nBrandAnalytics.