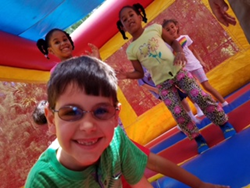 Newbridge Prep has prepared the 'Best Summer Ever' with creative and fun weekly themes that differ from our school-year themes.
Lake Worth, F (PRWEB) June 21, 2017
Newbridge Prep, a preschool owned by experienced educators where students actively participate in a holistic preparatory education program, is hosting the "Best Summer Ever" camp to keep students learning throughout summer. "Studies show that the learning gap created over summer break can 'revert' students backwards several months," said Jackie Matzirakis, owner/founder of Newbridge Prep. "The lack of mental engagement, loss of practice and unstructured routine send students back to school after the summer break with more catching up to do than diving right back in."
Although children see this time of year as fun and less structured, Newbridge Prep administrators see it as a critical link to a successful transition from one year to the next. Additionally, Newbridge families see the summer learning camp as a fun alternative that gives their child the extra boost he or she needs to get ahead and prevent that summer learning gap.
"While we recognize the need for sustained academic development over summer, we also understand the need for downtime, creative expression and the opportunity for wander, wonder and curiosity -- all of which are equally critical to academic growth and personal success," noted Matzirakis. "Newbridge Prep has prepared the 'Best Summer Ever' with creative and fun weekly themes that differ from our school-year themes."
For example, children (2-5 years old) experience weekly in-house field trips from outside vendors like the petting zoo, wildlife center, science center and more that promote exploration, engage interest and satisfy wonder. Furthermore, every Friday is "Friday FunDay," with bounce houses, water slides and obstacle courses.
The "Best Summer Ever" camp runs now through August 4, Monday through Friday, 7 a.m.-6 p.m. To register, call Newbridge Prep at (561) 966-2644, or email info(at)newbridgeprep(dot)com.
About Newbridge Prep
The Newbridge Prep philosophy is that all children can and will succeed, and it encourages parental involvement in the classroom and via numerous activities throughout the year. Newbridge faculty works diligently to create a positive environment that enhances children's self confidence and empowers them to succeed. Discounts are available to law enforcement, firefighters, military personnel and teachers. For more information, please call (561) 966-2644, or visit http://www.newbridgeprep.com.
About the NALA™
The NALA offers small and medium-sized businesses effective ways to reach customers through new media. As a single-agency source, the NALA helps businesses flourish in their local community. The NALA's mission is to promote a business' relevant and newsworthy events and achievements, both online and through traditional media. The information and content in this article are not in conjunction with the views of the NALA. For media inquiries, please call 805.650.6121, ext. 361.