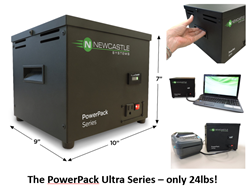 Facility workstations are increasingly going mobile as a simple, yet major productivity improvement.
Middleton, MA (PRWEB) July 30, 2014
Newcastle Systems, the leader in mobile power workstations, has expanded its power options with the PowerPack Ultra Series. Based on the original successful PowerPack Series design, the new Ultra provides mobile power for light applications like a standard laptop or clamshell printer for 4-8 hours depending on the user's level of activity.
With a built-in inverter and charger, the PowerPack Ultra is a fully mobile power supply that requires no special wiring or user maintenance to deploy and charge as needed. Combined with a RC Series or NB Series SLIM cart, managers can see immediate productivity gains in the workplace when workstations become mobile workstations and allow staff to take the equipment to their work, rather than walking back and forth for labels.
John O'Kelly, President of Newcastle Systems, noted, "We've seen an increase in the types of usage profiles in our customer's facilities. Not only are heavy-duty applications like laser printers going mobile, smaller profiles that might only have a laptop and clamshell printer are increasingly seen as more robust and productive alternatives than belt-mounted printers with lower capacities."
Learn more about the PowerPack Ultra or reach a representative at Newcastle Systems by visiting the PowerPack Ultra intro page.
About Newcastle Systems, Inc.
Newcastle Systems is a provider of workplace mobility solutions that include a range of mobile computer carts for every mobile workstation need and a unique power pack system that enables companies to maximize workplace efficiencies with smaller investment. Newcastle Systems mobility solutions are in place around the world helping reduce footsteps in warehouses, speeding receiving operations, improving staffing efficiencies in retail, and providing convenience and ergonomic benefits for employees in many sectors including Manufacturing, Educations, Distribution, Military and other Government entities.
FOR MORE INFORMATION: Please visit our website at http://www.newcastlesys.com or direct inquiries to us via sales(at)newcastlesys(dot)com.