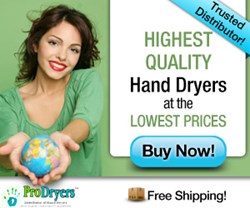 This isn't a brand new product. It's the addition of germ-killing cold plasma technology into the already top performing ExtremeAir.
Livonia, MI (PRWEB) November 05, 2013
ProDryers is proud to announce new cutting-edge technology made right here in America, the new eXtremeAir cPc hand dryer which has the markings to completely change the hand dryer industry. American Dryer, a US company in Livonia, Michigan, has developed breakthrough patent-pending technology called Cold Plasma Clean, killing 99.6% of harmful germs and pathogens while drying hands. Washing hands may clean, but only the eXtremeAir cPc hand dryer will actually kill harmful pathogens like E. coli, C. diff, Staph, MRSA, and TB while drying hands.
Everyone has seen cold plasma. The fresh air atop a mountain or the clean air of ocean breezes are both good examples. Heat changes the state of matter, from solid to liquid to gas to plasma. It has been used successfully to purify the air in commercial buildings since the 1930s. Baylor College of Medicine, The Cleveland Clinic and Boston Children's Hospital have been using the technology for years in their HVAC systems. They have been using the prototype model of the American Dryer ExtremeAir CPC with great results. There is also new technology using a pen-like device to decontaminate wounds and surgical sites before suturing. In other applications, there are also studies using cold plasma to decontaminate E. coli and other pathogens from food. All these applications are using a natural phenomenon found throughout our universe.
American Dryer took this concept and developed the most hygienic method of hand drying. The American Dryer ExtremeAir cPc will dry hands with warm air in 10-15 seconds as well as sanitize hands and the surrounding air. It has an adjustable motor to vary the speed and sound to adapt itself to every application, from the quiet library, where sound is an issue to a rowdy sports arena, where speed is of essence. Anthony Dicicco, CEO of ProDryers, a major distributor of hand dryers and restroom accessories, is excited about the new dryer. "There has always been a debate about which is cleaner or more hygienic, paper towels or hand dryers. New studies and claims are always popping up with one or the other being the better product. This new dryer will stop the argument cold. And the fact that it is built into a proven reliable product such as the ExtremeAir, makes it even more exciting. This isn't a brand new product. It's the addition of germ-killing cold plasma technology into the already top performing ExtremeAir."
The HEPA filter, which was the latest in hygienic technology for hand dryers, collects the germs and microbes in a filter. The cold plasma technology has no filter to change. There is no collection, just warm air actually killing pathogens while drying hands. The eXtremeAir with cPc technology has also been independently tested for safety by Underwriters Laboratory (UL), passing both the UL867 and the California Air Resources Board (CARB) standards.
The introduction of the eXtremeAir cPc will completely change the hand dryer industry. Leading hospitals, schools and more are awaiting mass production, for use in their facilities. This bacteria killing hand dryer using a natural phenomenon, with no harmful side effects and tested by an independent laboratory may become the new standard in restroom sanitation. Look for this amazing new hand dryer technology at ProDryers November of 2013.