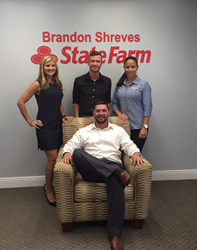 I fully espouse the Soles4Souls philosophy that 'a new pair of shoes provides relief today so thousands can succeed tomorrow.
Mobile, AL (PRWEB) September 28, 2015
"Since it's not cold yet and school has already started, we are going to begin a winter shoe drive," said Brandon. "Due to the success of our initial Soles4Souls drive, we want to surpass 500 donations and try and double that."
Soles4Souls believes everyone deserves a good pair of shoes, as each day children are prevented from attending school and adults are unable to work as walking becomes unbearable because of a lack of shoes. Since 2006, Soles4Souls has collected and distributed more than 26 million pairs of shoes to those in need in 127 countries around the world and all 50 states in the U.S.
"I fully espouse the Soles4Souls philosophy that 'a new pair of shoes provides relief today so thousands can succeed tomorrow,'" said Brandon, a soon-to-be father of a baby girl. "We are honored to be involved with this humanitarian organization that has been able to grow relationships all across the Gulf Coast and empowers future generations."
Brandon also gave thanks to Capree House at the NALA, an organization that works with local businesses on charity drives, among other things, for her help with getting the word out. "Capree has gone above and beyond to help," said Brandon.
To donate shoes or clothing, visit Brandon Shreves State Farm, an official Soles4Souls drop-off location, at 4308 Midmost Drive, Mobile, AL, 36609. For more information about getting involved with Soles4Souls, visit https://soles4souls.org/get-involved/.
About Soles4Souls
Soles4Souls is a global social enterprise dedicated to fighting the devastating impact and perpetuation of poverty. The organization advances its anti-poverty mission by collecting new and used shoes and clothes from individuals, schools, faith-based institutions, civic organizations and corporate partners, then distributes those shoes and clothes both via direct donations to people in need and by provisioning qualified microenterprise programs designed to create jobs in poor and disadvantaged communities.
About Brandon Shreves State Farm
Born and raised in Mobile, Alabama, Brandon Shreves is a third-generation State Farm Family member. He offers a variety of products and services, which include auto, home and property, life and health insurance, as well as banking products. He also offers a wide array of plans that can build cash back and cover financial service needs. For more information, please call (251) 219-7800.
About the NALA™
The NALA offers local business owners new online advertising & small business marketing tools, great business benefits, education and money-saving programs, as well as a charity program. For media inquiries, please call 805.650.6121, ext. 361.