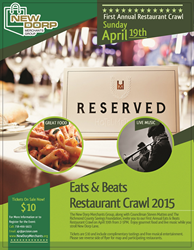 I invite all my constituents to join me on the Lane for good food, good music and good times.
Staten Island, New York (PRWEB) April 15, 2015
The Staten Island Economic Development Corporation (SIEDC), Councilman Steven Matteo and the New Dorp Merchants Group (NDMG) are excited to announce the First Annual Eats & Beats Event to be held on New Dorp Lane on Sunday, April 19th from 2pm-5pm. The event will feature a restaurant crawl with 17 participating restaurants as well as live musical performances at each location for patrons to enjoy as they stroll New Dorp Lane.
"I am very excited about this upcoming event. As part of our initiative to bring people back to the Lane, we have put together a great series of events for the spring season, and 'Eats and Beats' is an excellent way to kick it all off," said Councilman Steven Matteo. "I invite my all my constituents to join me on the Lane for good food, good music, and good times."
Tickets to the event are $10 which includes a tasting plate at each of the participating locations listed below. Those interested may purchase tickets online at http://www.newdorpmerchants.org or at 181 New Dorp Lane the day of the event. Guests will receive a guide map as well as vouchers to claim their food samples at each of the restaurants. To date, more than 100 tickets have been sold and the group is anticipating an even larger turnout over the next few days.
"The New Dorp Restaurant Crawl - Eats & Beats - is an exciting new opportunity for the businesses along the Lane," said SIEDC First Vice-President Steven Grillo. "The New Dorp Merchants Group has done a wonderful job promoting the area over the past year and this is yet another example of how New Dorp Lane is becoming a leading commercial strip on the Island."
Participating Restaurants:
Brioso: 174 New Dorp Lane
Crown Palace: 201 New Dorp Lane
Dominick's Bakery: 31 New Dorp Lane
Jade Asian Bistro: 331 New Dorp Lane
John's Deli:173 New Dorp Lane
La Strada: 139 New Dorp Lane
Mike's Place: 355 New Dorp Lane
Pho Rainbow: 42 New Dorp Plaza
Piece A Cake: 177 New Dorp Lane
Pizzeria Giove: 278 New Dorp Lane
Restaurant on the Plaza Pizza: 50 New Dorp Plaza
Pronto Pizza: 337 New Dorp Lane
Something Sweet: 314 New Dorp Lane
Sushi Excellent: 366 New Dorp Lane
Tast of India II: 287 New Dorp Lane
Villa Monte: 170 New Dorp Lane
Zaghloul Grill: 61 New Dorp Plaza
For tickets, event information, and questions please contact the events organizer, Anthony Rapacciuolo of PRcision, at (718) 490-5023 or ajr(at)prcision.com
About The New Dorp Merchants Group:
The New Dorp Merchants Group was founded in 2014 by Councilman Steven Matteo, SIEDC, and the Richmond County Savings Foundation. The Group is aimed at organizing the business community throughout the New Dorp commercial corridor and providing additional services in order to enhance economic vitality.
The Merchants Group steering committee, led by Maria Esposito of Norman Heil Insurance, has been hard at work strengthening the business community with beautification, sanitation, collective marketing, and events. The Group recently released a Shopper's Guide featuring helpful information about the numerous businesses in the area and can be picked up in shops throughout New Dorp Lane, and it is also available on Facebook (https://www.facebook.com/newdorpmerchants) and the New Dorp Merchants Group website http://www.newdorpmerchants.org.
For more information about the New Dorp Merchants Group, please visit http://www.newdorpmerchants.org.