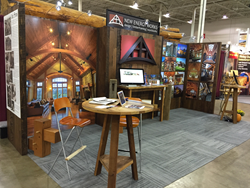 These tradeshows offer an opportunity to learn about the benefits of timber frame construction
Boston, MA (PRWEB) November 09, 2015
New Energy Works Timberframers concludes a busy autumn of traveling around the country to several tradeshows in Boston, MA at the ArchitectureBoston Expo (ABX) from November 17 – 19. The New Energy Works team invites the shows' attendees into their exhibit – Booth #312 – to share their timber frame design and build expertise, project images, and their new 2016 project calendar.
"These tradeshows offer an opportunity to learn about the benefits of timber frame construction over traditional stick-built homes. Folks are always surprised to find out how design-flexible and environmentally responsible timber framing is," explains Eric Fraser, Timber Frame Manager of New Energy Works.
Those wanting to learn more about timber frame design and build are encouraged to attend the ArchitectureBoston Expo. Wherever you are in your home journey – fact-gathering as you search for land, selecting the manufacturer and dealer to build your dream, the builder, or architect, or you're living in your home and always on the lookout for just the right furniture and accessories – you'll find what you need.
The ArchitectureBoston Expo (ABX) is the largest and leading building industry event in New England and attracts more than 15,000 professionals every year. Attendees can find and learn the latest in industry trends by attending sessions or networking on the show floor. "The building industry varies dramatically from region-to-region due to issues of climate, geography, politics, and economics – ABX and the Boston Society of Architects help build long-term relationships around these shared experiences and challenges," shares the Boston Society of Architects, hosts of the event.
There are a number of complimentary tickets available from New Energy Works for the show. Contact them directly for further information and details at events(at)newenergyworks(dot)com
New Energy Works' next tradeshow stop will be the International Builders' Show in Las Vegas from January 19 – 21, 2016. They'll unveil a new exhibit booth full of timber framing details and information while joining their sister company, Pioneer Millworks, in celebrating reclaimed timbers.
New Energy Works Timberframers have been designing and building environmentally responsible timber frames across the USA for more than 30 years from their facilities in New York and Oregon. Offerings include: Timber Framing (design, engineering, manufacturing, and build), Enclosure Systems, Fine Woodworking, and Recycled and Sustainable wood products. New Energy Works has two LEED AP staff members, is a member of the US Green Building Council, and is FSC-certified.